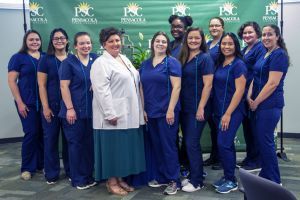 Published: 05-12-2021
Troy Moon, Pensacola State College
Just three days before they would graduate, a cohort of 10 Pensacola State College Veterinary Technology Program students received vocational pins and recited an oath that would make them part of a noble profession sworn to care for animals, large and small, slithering or walking, pet or beast of burden.
"We focus not on one species," said Sarah Meyer-Paterson, Veterinary Technician Program director, at the Thursday, May 6, pinning and oath service at the Warrington campus. "If it is not human, we provide medical and surgical nursing care for them… Our patients rely on our ability to not only assess physiologic data, but also their body language, interpret clinical data and use critical thinking. Our patients have voices because we know how to listen."
Receiving pins and reciting the Veterinary Technician Oath were:
• Katherine Benoit
• Emly Clark
• Brooklynn Hall
• Aubrey Henson
• Kaylie Hill
• Rivanna Hurst
• Christine Petraskova
• Kimberly Pfeiffer
• Caitlin Trussell
• Marquell Watson
All the Veterinary Technicians will graduate and receive Associate in Science degrees on Sunday, May 9, at a commencement ceremony in the Pensacola Bay Center.
"This was a great cohort," Meyer-Paterson said before the event began. "They are kind, dedicated and a really smart group of ladies who have committed their last two years to their education and bettering the profession of veterinary technician."
Meyer-Patterson said veterinary technicians are invaluable to the veterinary profession.
"We provide medical and surgical nursing care for them," she said of the animals they treat and care for. "We also perform diagnostic radiography, preventive and interventional dentistry, laboratory diagnostics, biomedical research, anesthesia and analgesia, pharmacology and pharmacy and emergent care."
The graduates' plans are diverse yet grounded in the care and treatment of animals.
Trussell wants to work in emergency care or rehabilitation. Hurst hopes to work in a zoo or in a conservation field. Petraskova already has a job lined up at a wildlife refuge in Navarre.
"It's been a lot of hard work to get to this point," said Hall, moments before receiving her pin and reciting the oath. "You learn not to procrastinate. It was difficult but the teachers were good and fair. It was a great experience."