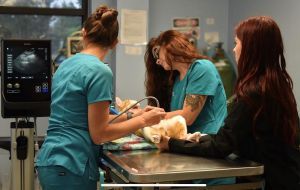 Published: 10-07-2019
Two 2019 graduates of Pensacola State College's Veterinary Technology program are featured in the October issue of Trends magazine.
Gena Medley and Kirsten Kirkland appeared in the magazine, a business and practice management publication for veterinary professionals.
Medley and Kirkland both work at Animal Hospital of Tiger Point, which is American Animal Hospital Association-accredited. The two were featured in the article titled, "The transforming roles of veterinary technicians."
"I'm so honored that Trends magazine selected our photo," said Medley, who has been employed at the hospital since graduating from Pensacola State in May. "The article showcases what we really do – in a clinical setting,"
Medley, who drove from Mary Esther to the College's Warrington campus for two years in order to earn a Veterinary Technology degree, said her position with Animal Hospital of Tiger Point was waiting when she graduated.
"It was definitely worth the drive, I learned so much and would gladly do it all over again," said the 25-year-old. "Mrs. (Sarah) Meyer-Paterson really made the program interesting. It was tough but I've learned so much. I would highly recommend the PSC Vet Tech Program."
Katie Delmar, office manager at Animal Hospital of Tiger Point, said Medley, Kirkland and Angela Coff were included in a feature that Trends magazine published on veterinary technicians in action.
"Dr. Lorrie Moseley took the photos of the three and sent them to the magazine a while back, we're thrilled and definitely honored to be included in the feature," Delmar said. "We're proud of our team and how they have grown and watching them progress and grow."
Meyer-Paterson, director of the college's Veterinary Technology Program, remembered Medley and Kirkland as outstanding students.
"While at PSC, Gena was the treasurer and an active member of SCNAVTA (Student Chapter of National Association of Veterinary Technicians in America)," Meyer-Paterson recalled. "She also had the highest GPA in her cohort and was the recipient of Veterinary Technology and PSC scholarships."
Medley also received a 2019 Student Excellence Award, interned at Emerald Coast Wildlife Rehabilitation, and volunteered for the 2018 Holiday Experience, Vet Tech Open House 2018 and the 2019 SkillsUSA Worlds of Possibilities Career Fair.
Kirkland also was an active member of SCNAVTA and volunteered at Vet Tech Open House 2018, 2019 SkillsUSA Worlds of Possibilities Career Fair and often takes her personal dog to local nursing homes.
Published monthly, Trends magazine offers big-picture perspectives and proven strategies that can be used to enhance patient care and operate veterinary practices more effectively and profitably.