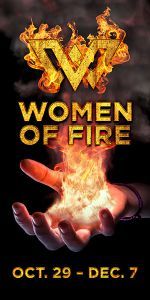 Published: 10-30-2018
Pensacola State College will host an Opening Reception and a Night of Demonstrations for the Foo Foo Festival's, "Women of Fire Exhibition."
Set for 6-8 p.m. Thursday, Nov. 1, in the College's Anna Lamar Switzer Center for Visual Arts, the reception and demonstrations of torch work, blacksmithing and glassblowing are open to the public.
Attendees also can speak with and interact with the "Women of Fire"  ─ Corrina Sephora, a blacksmith; Hillary Heckard, a glassblower; mixed media glass artist Rachel Wright; and torch worked glass artist Meredith Hartsfield.
The "Women of Fire Exhibition" is open through Friday, Dec. 7, in the Anna Lamar Switzer Gallery. Gallery hours are 8 a.m.-9 p.m. Monday through Thursday and 8 a.m.-4 p.m. Friday. Tours are available with prior arrangements. Admission is free and open to the public.
First City Art Center also will hold a Multi-Sensory Event featuring the "Women of Fire" from 6-9 p.m. Saturday, Nov. 3, at the center located at 1060 N. Guillemard St.
The event will include more artists' demonstrations as well as Raku firings, fire dance performances, live music, vendors and food trucks. A VIP Artist Reception begins at 5 p.m. For tickets or more information, visit FirstCityArt.org.
The artists' work are as varied as the women who have debunked stereotypes:
Sephora's lifelong interest in metalworking began at age 5 in her father's workshop, where she was introduced to the art of boat building. In 1995, she earned a BFA in Sculpture and Metalsmithing from the Massachusetts College of Art in Boston. She then moved to Atlanta where she has her own studio, specializing in sculpture, furniture and architectural works. In 2005, she received her MFA in Sculpture from Georgia State University.
She has taught on the collegiate level and presented at national and international blacksmithing workshops and conferences.  Her prestigious metalworking awards include "Best in Show" from Annette Cone-Skelton of MOCA GA, Silver Award from Icarus International and Silver Sculpture Award from NOMMA.
Raised in Northern California, Heckard received a Bachelor's of Arts degree in Cultural Anthropology from the University of Oregon in 2008. While studying in Hawaii, she was introduced to glassblowing and went on to receive a second BFA degree with a focus in glass from the University of Hawaii at Manoa.
After graduation, she was awarded a Traveling Assistantship Scholarship at the Chrysler Museum of Art in Norfolk, Virginia.
She has exhibited internationally at the Chrysler Museum of Art, Portsmouth Museum, the Glass Furnace in Istanbul Turkey and other venues. Also, she has taught glass courses at Old Dominion University, Virginia Wesleyan College and Tidewater Community College.
Wright received her BFA from the School of the Art Institute of Chicago and her MFA from Southern Illinois University at Carbondale. She has traveled internationally.
She has exhibited in New York, Chicago, New Orleans, Birmingham, Mobile, Charleston, South Carolina, Pensacola and Panama City. Her work is featured in many collections including the CooperHewitt Design Museum, and she received an artist fellowship from the Alabama State Council for the Arts.
Wright's work is primarily sculptural, mixing media such as glass, clay, steel, wood, wax, fabric and photographs. She teaches at the University of South Alabama.
A resident of Gulf Breeze, Hartsfield specializes in lampworked beads and vessels and designs custom jewelry to showcase her handmade beads.
With an educational and professional background in graphic design, commercial art, photography and illustration, Hartsfield has been working as a glass artist since she created her first glass bead in 1995. She also has experience in silversmithing and fine jewelry making and design.
For more information on the Pensacola State College opening reception and demonstrations, call 850-484-2563 or contact Sheila Nichols at 850-484-1428 or snichols@pensacolastate.edu.