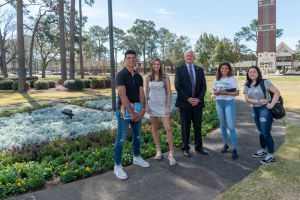 Published: 12-06-2021
Pensacola State College will host Discover Pensacola State from 4-5:30 p.m. Wednesday, Dec. 8, in the Student Center, Building 5, on the Pensacola campus.
Spring semester classes begin Friday, Jan 7. It's not too late for new, returning or potential students to register for classes.
Registration to Discover Pensacola State is encouraged but not required. Visit www.pensacolastate.edu/admissions to register.
Pensacola State staff will be on hand to answer questions and assist with college, financial aid and scholarship applications. Campus tours also will be available.
Spring semester sessions include:
Session A: Jan. 7 – May 6
Session B: Jan. 7 ­– March 4
Session C: Jan. 31 – May 6
Session D: March 7 – May 6.
For more information, call 850-484-2000 or visit Admissions@PensacolaState.edu.