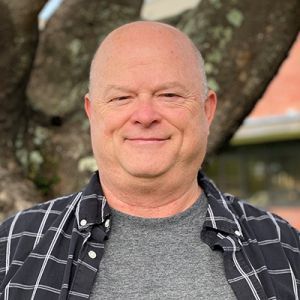 Published: 11-08-2019
Pensacola State College Theater Director Rodney Whatley has been selected for induction into the Florida College System Activities Association (FCSAA) Hall of Fame.
Kelly Warren, FCSAA executive director, will induct Whatley into the Hall of Fame just before the College's 7:30 p.m. performance of "The Producers" on Saturday, Nov. 9, in Ashmore Auditorium on the Pensacola campus.
Whatley has been the director of theater and theater program coordinator at Pensacola State since 2005. He also has served as an adjunct faculty member at Pensacola Junior College, Jefferson Davis Community College and the University of West Florida.
Whatley said he was beyond honored to be recognized by his peers.
"This is a wonderful experience that I will always treasure. I want to thank our team in the Theatre Division of the Performing Arts department for making every show we work on a festival, and all our students over the years for making each class day a celebration. The state of Florida college system is a wonderful organization of which I am proud to be a member," he added.
Whatley joins eight other Pensacola State administrators and faculty members – President Horace Hartsell; Tom Botsford, publications; Vicki Carson, Donn Peery and Bill Hamilton, athletics; Ed Holdnak, student government association; Ken McAferty; Brain Bowl; and Joy McClintock, forensics – to have been inducted into the FCSAA Hall of Fame since 1993.
The FCSAA Hall of Fame recognizes administrators, coaches, advisors, officials, students and others who have contributed at least 10 years of service to FCSAA or one of its member institutions. Inductees are selected by peers on the merits of their community and state college contributions and achievements as well as significant accomplishments.
Over his career at Pensacola State, Whatley has directed more than 50 productions ─ many of which have been part of the FCSAA respondent program and traveling theater festival. His students also have participated in the State College Ten Minute Play Festival at the Florida Theatre Conference for many years.
Warren said Whatley was nominated by Jeanine Henry, state advisor for the FCSAA theater division.
"She wanted to recognize Dr. Whatley for his years of service to the theater division and respondent program," she said. "When he was state advisor, Dr. Whatley was very supportive in the building the respondent program and once he left that position, he has been instrumental in keeping it going."
While serving as the theater division representative for the FCSAA Executive Committee from 2011-2014, Whatley was committed to encouraging colleges to participate in the program. He continues to be an active respondent, sharing his time and talent.
In 2008, he was awarded tenure at the College, and promoted to associate professor in 2015. While on sabbatical in fall 2018, he wrote a soon-to-be-published book on teaching Acting 1. He has acted in and directed plays at the Pensacola Little Theatre and premiered a new script at Theatre West-Sanctuary in the Groves Playhouse.
Whatley also has served as a judge for the District 1 Thespian Competition for 17 years and has been a high school one-act competition judge at the Florida Theatre Conference.
Don Snowden, Pensacola State's district academic department head of performing arts and director of bands, said the entire College is proud of Whatley's achievements.
"I am not surprised at this honor for Dr. Whatley. He has been a constant inspiration for our actors for many years and our productions are first class. He is a wonderful colleague and we look forward to many more fine productions in the future. We are very proud of his accomplishments."
Whatley holds a Bachelor of Fine Arts from the University of Montevallo, a Master of Arts from Lindenwood University, and his doctoral degree from Florida State University.
An Atmore, Alabama, native, Whatley and his wife, Carrie, have five children, and one grandson.