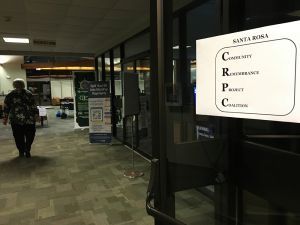 Published: 02-27-2020
Troy Moon, Pensacola State College
Nine African-Americans were lynched in Santa Rosa County from 1884 to 1937.
One of those horrendous murders happened less than a half-mile from the current Pensacola State College Milton campus, according to a PSC researcher.
PSC personnel are taking a lead role in researching the Santa Rosa County lynchings, with hopes to document the brutal acts and, eventually, recognize the victims with a historical marker to be erected at a yet-to-be specified location.
The PSC African American Student Association is one of nine community groups involved with the Santa Rosa Community Remembrance Coalition, which features community, civic and faith-based groups. PSC Milton campus instructor Darlene Mosley is the coalition's coordinator. Mosley, along with fellow PSC colleague Tonie Anderson-Steele, are coalition researchers.
The Santa Rosa Community Remembrance Coalition meets in the Student Center on the PSC Milton campus. The next meeting is from 6 to 8 p.m. on March 26. The group held its first meeting in January.
"They are our ancestors," Anderson-Steele said of the lynching victims. "And we still need to face that horrible history, no matter how horrible and traumatic it is. It's still our history. One of the lynching sites is just a block away from the college."
The Community Remembrance Project Coalition is a partnership with the Equal Justice Initiative of Montgomery, Alabama.
Coalition members will collect soil from each identified lynching site that will eventually be displayed at The Legacy Museum: From Enslavement to Mass Incarceration in Montgomery.
Other partners in the local coalition are the LEAP Committee of the Milton City Council; Milton First United Methodist Church Youth Group; Mt. Pilgrim African Baptist Church; NAACP of Santa Rosa County; Overcoming Obstacles Outreach Ministry; Santa Rosa Democratic Black Caucus; Santa Rosa Historical Society and St. Mary's Episcopal Church.
"Community coalitions like this are springing up all over the country," Mosley said. "The Equal Justice Initiative is asking people and organizations within their own communities to come together to help research these lynchings so that we can finally honor the victims."
Mosley is an associate professor in PSC's History, Language and Social Sciences Department.
According to research by Tuskegee University, there were 1,297 lynchings of white people and 3,446 lynchings of African Americans. While most lynchings involved hangings, lynchings include any premediated extrajudicial killing by a group.
One of the most notorious Santa Rosa County lynchings was the March 14, 1919, murder of military veteran Bud Johnson. News reports from the time are sketchy and often contradictory, and there are numerous reports and theories on what happened. (Even Johnson's military background is unclear; some reports state that he was a World War I veteran, yet he entered the military less than two months from war's end.)
The Milton Gazette said Johnson was accused of assaulting a well-known white woman in Milton. But there are contradictory reports on where he was from and the circumstances that led him to be killed by a mob, and even where he was actually killed.
An NAACP deposition of the lynching said Johnson had recently returned from military service in Germany. He came to Jay, Florida, where he incurred his father's debts. He was reportedly shot at by a white man, who claimed that Johnson had fired at him. A mob formed and put a noose around his neck and hung him from a tree. Members of the mob would pull him up and then let him down again and again, according to the NAACP deposition. People in the crowd suggested Johnson be accused of assaulting a white woman to cover up their treatment of the man. They then tied Johnson to a tree trunk and burned him alive, according to the deposition.
There are some reports that his skull was split with a hatchet and parts of the skull were given to members of the mob as souvenirs.
Other Santa Rosa County lynchings involved people who were accused of crimes, but who were killed before they could be tried. The last Santa Rosa County lynching took place in 1937. The earliest lynching case being investigated took place in 1884.
The coalition meets once a month at Pensacola State College. The early meetings, including the March 26 and April 24 meetings, are designed as "Community Conversations about Race and Ethnicity." At the Feb. 25 meeting, members split into various groups to discuss their own backgrounds and experiences with racial issues.
"Our hearts are still broken," Anderson-Steele said of the lynchings. "People become so desensitized and we have to remind them of the struggle if we're to move forward, and that's for people of all colors and races."
The focus of these early meetings is "to get people talking about race and ethnicity," Mosley said. "These community events are where we start the conversation."