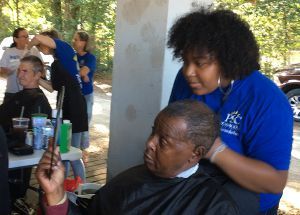 Published: 09-23-2019
TRIO Veterans Upward Bound also participated in the Homeless Veterans Stand Down event
By Troy Moon, Pensacola State College
The proud man looked in the mirror that Pensacola State College cosmetology student Alaysha Butler handed him to check out his new haircut. It was good, but…
The man was ex-military. He need a few more hairs chopped off the top to make his own personal muster.
Butler just smiled and gingerly snipped off a few more graying hairs. Soon, the veteran had a high-and-tight clean cut that would have passed any military inspection.
Butler was one of 10 third-term Pensacola State cosmetology students who offered free haircuts to homeless, hard-times military veterans who can't afford such luxuries during the annual Homeless Veterans Stand Down on Friday at the Salvation Army.
"They're doing a great job,'' said U.S. Army veteran Derek Reuben, who asked for the "tried-and-true" hardcore military cut he was accustomed to during his military stint in the early and mid1980s. He then offered a crisp salute.
Reuben isn't homeless now. He's part of U.S. Department of Housing and Urban Development-VA Supportive Housing Program. Known as HUD-VASH, the program is a collaboration between HUD and Veterans Affairs to provide housing for homeless veterans and their families.
Dozens of local nonprofit organizations, educational institutions, and veterans groups participated in the annual Stand Down event, which drew hundreds of homeless and/or struggling veterans to the Salvation Army, located in the Brownsville neighborhood.
Pensacola State cosmetology instructor Kimberly Harkwick said it was a privilege to represent the college at an event to honor those who served this country.
"We've been part of this for several years,'' said Harkwick, as her students worked at bustling, makeshift stations set up outside behind the Salvation Army auditorium. "It's definitely something close to my heart. My husband is a veteran and my grandfather is a veteran. It's a great opportunity for our students to give back to the community and our veterans."
Inside the auditorium, amid the dozens of informational vendors, Rob Gregg and John Woods with the college's TRIO Veterans Upward Bound program offered the roaming veterans hygiene kits filled with sample toothpaste, body wash, toothbrushes and more. They also distributed brochures on the program and spoke with interested veterans.
"We want to help them get into college if that's what they want to do,'' said retired U.S. Air Force Chief Master Sgt. John Wood, Veterans Upward Bound academic coordinator at PSC. "I'm a veteran myself, so I always want to help other veterans who served their country." (Gregg is a U.S. Navy veteran.)
The TRIO Veterans Upward Bound program helps veterans enter and successfully complete college. The program offers tutoring, career plans, financial aid and more.
"We've had a lot of interest,'' Woods said. "We've already given away all the hygiene packs."
Reuben said he appreciated all of the organizations that participated and had a message for the day:
"Be good to one another,'' he said. "Love one another."
For more information
The TRIO Veterans Upward Bound office is in Building 6, Room 658, on Pensacola State College's main campus.
Robbie A. Gregg, Director
rgregg@pensacolastate.edu
(850) 484-1438
John E. Woods, Academic Coordinator
jwoods@pensacolastate.edu
(850) 484-1715
Ingrid Davis, Recruitment and Retention Specialist
idavis@pensacolastate.edu
(850) 484-2087
The Pensacola Cosmetic Arts office is in Building 12.
Kimberly Markwick, Program Contact
kmarkwick@pensacolastate.edu
(850) 471-4663
Michael Listau, Department Head
mlistau@pensacolastate.edu
(850) 484-2586