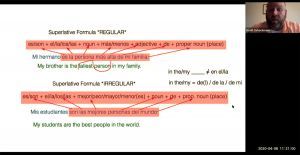 Published: 04-09-2020
Troy Moon, Pensacola State College
Pensacola State College's Robinson Honors Program students usually meet on Mondays. But with the COVID-19 pandemic closing campuses, the honors students had to adjust like everyone else.
So, honor student Julie Riser showed her fellow students how to make turkey chili, using Zoom interactive technology to let her classmates follow her live.
"I was excited because they were writing down the recipe and really interested,'' she said. "It's not a perfect system, but we're doing what we can to stay connected and sane."
Like all PSC students and faculty, Riser is adjusting to a strictly online learning environment. Two of her five spring semester classes were in-class and had to be quickly converted to online.
While PSC has been using online instruction for years, for some it's been a new experience. But with assistance and guidance from the eLearning Department, and help from more seasoned online instructors, instructors have been able to make the transition to online – no matter how reluctant they were to use the new technologies in the past.
"I was one of the last hold outs,'' said PSC math instructor Jennifer Brahier, who has been teaching at the College since the Clinton Administration. She described herself as a "hardcore classroom teacher."
But, when the pandemic's reach and impact became evident, she knew that she had no choice but to embrace the transition to online.
"I realized this was coming before spring break,'' Brahier said. "My stats class has been tracking this since January, so we saw the writing on the wall. I didn't know what I was going to do."
She credited the eLearning Department with getting her set up and transitioned to online.
"I thought it was going to be PowerPoints, but that I wouldn't be able to see the students faces and interact with them,'' she said. But Zoom and other virtual formats have allowed her to conduct live online classes.
"I'm kind of amazed,'' she said of the transition. "There are still some growing pains and things that need to be worked out, but I'm kind of shocked to see what's possible here."
Lexi Miller, also a Robinson Honors Program student, is taking seven classes this spring. Five were on-campus classes that had to be converted practically overnight.
"Having a week off braced everyone for impact,'' said Miller, the program's vice president. "But now, things are going well. Everyone seems settled in. Assignments are coming in and we're getting caught up."
Still, Miller worries that her public speaking class might not be as effective online, even using tools such as Zoom.
"A lot of public speaking is based on eye contact. So, it's going to be interesting with a camera," she said.
But she credits College's administration and faculty for making the transition as smooth as possible.
"The instructors have been amazing in keeping in touch with us and letting us know what's going on,'' Miller said. "Of course, some of the teachers who weren't online teachers are not as tech savvy as some others, but they're doing well and doing the best they can. I don't think my education has been compromised at all."
Pat Horacek, another PSC math instructor, has been a classroom instructor for 33 years.
But she's converted her six spring semester classes to online with the assistance of the eLearning Department.
She feels that students continue to get a quality education, despite any problems caused by the pandemic.
"They seem responsive and appreciative of what the College is doing, what we're all trying to do,'' Horacek said. "We might not be able to meet with them the way that we would like, but this seems to work fairly well. It works for me."
PHOTO: Instructor Scott Schackmann uses a video conferencing tool to teach his Spanish class. Photo courtesy of Scott Schackmann