Mary Mabins, Pensacola State College
Superheroes don't always wear capes – sometimes they wear Pensacola State College T-shirts and athletic gear.
Recently, more than 50 Pensacola State student-athletes and coaches came to the rescue of local families whose homes and properties were devastated by Hurricane Sally. The category 2 hurricane hit the Florida Panhandle and coastal Alabama on Sept. 16 bringing wind, rain and storm surge.
Since Sept. 18, members of Pensacola State Athletics have helped at least 25 residents clear debris, remove fallen and cut tree limbs and waterlogged furnishings and other items from their homes and property, said Pensacola State baseball coach Bryan Lewallyn, who spearheaded the effort.
"I'm proud of all the student-athletes who have worked tirelessly going from one house to another, working in the rain, helping people who they will never see again," said Lewallyn, who initially put out a Facebook call to residents letting them know PSC student-athletes were available to help with cleanup.
"We recognized there was a need in our community," he said. "And as an institution, our target is the community and not something we want to only serve from an education standpoint, but whenever there is a need."
Softball coach Lynsey Angus and assistant basketball coach Sagar Kapoor and their players also volunteered along with the baseball team in the cleanup.
The student-athletes were a godsend for Terri Maxwell and her husband, Melvin, who live in Lake Charlene subdivision in West Pensacola.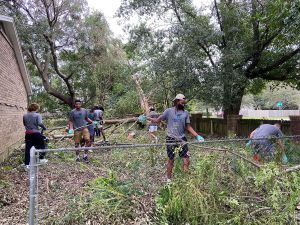 "They came as a huge group, and we didn't even know they were in the front yard working until our dog started barking," Terri Maxwell said. "By the time we made it to the front, the boys were already raking and hauling debris to the street. I saw Coach Lewallyn, and he told me they were there to help."
Maxwell said her husband is 72 and had already hurt his back doing cleanup.
"These young men worked. They were back and forth like little ants and as quiet as could be," she said. "They also were very agreeable and did anything that we asked them to do. We are so thankful. We couldn't have done it without them. The members of the PSC baseball team players were a tremendous, tremendous help to us."
Pensacola resident Avery Beauchaine, a freshman pitcher for the Lady Pirates softball team, said helping neighbors in her hometown was fulfilling.
"The first house we worked at was in the Lillian, Alabama-Perdido area. The homeowner lived on a canal and lost everything," she said. "It was devastating because she even lost all of her family pictures. We helped her clean out her house, her garage, and around her house. She was so grateful to us. She couldn't thank us enough."
Hurricane Sally is not Beauchaine's first encounter with a natural disaster. The Tate High graduate vividly remembers the devastation of Hurricane Ivan in 2004 and the historic flooding in 2014.
Following this hurricane, she said her family was blessed. Their home sustained minimum damage – a few downed trees and a collapsed gazebo in her grandfather's yard.
"In times like these, it's great to see our community come together – even during a worldwide pandemic ─ to help each other. I wanted to be a part of that – helping those who need it," Beauchaine added.
Unlike Beauchaine, the hurricane was an entirely new experience for some student-athletes.
"This was my first hurricane, and I didn't know what to expect, but in the aftermath, I knew that it was important to help," said Jorja Barrett, a Lady Pirates pitcher from Sydney, Australia.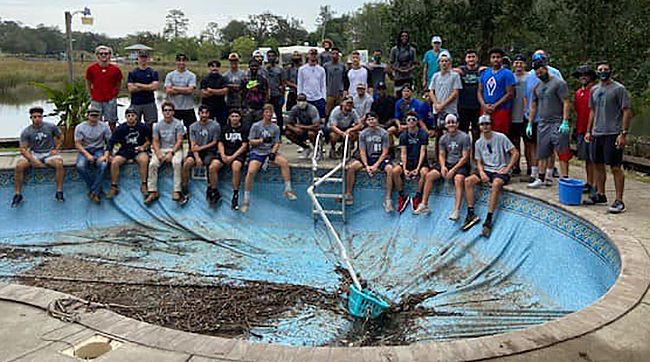 "It is embedded in our team's values to invest in and give back to our community. Just seeing so many people needing help, and since we were not in school, it was the perfect time to reach out and do what we could."
Barrett added she and teammates also cleaned debris from the backyard of a former Pensacola State professor who is pregnant, helped a single woman clean her fridge and garage, and helped remove debris from a couple's backyard.
"I'm proud to be part of Pensacola's State softball team. This is who we are as a team. This is what we are as a team," she said.
Anthony Notaro, a catcher on the Pirates baseball squad, said it was good to be a part of something bigger than baseball.
"I felt bad for the victims, but it was rewarding to see the smiles on their faces when they realized other people cared and were there to help them," said Notaro, a native of Anacortes, Washington.
"This was my first hurricane, and we did five or six houses on one street the first day we went out. When someone asked for help, we were not going to say no."
The baseball team also spent three days at Marcus Pointe Golf Club, hauling out debris and cleaning up the greens and bunkers.
"Doing this just keeps me motivated, and it was cool to see our whole team come together as one and focus on something more than baseball," Notaro said. "The greatest teams are the ones who feel connected on and off the field. Helping in the community pulled us all together for a greater cause."