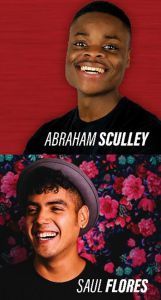 Published: 04-28-2021
Troy Moon, Pensacola State College
Saul Flores has grit. The first-generation college graduate from North Carolina University has even made "grit" his personal motto and brand.
Flores even has his rules of "Grit" that he's used as self-motivation and now as a teaching tool to prospective leaders at colleges and universities across the nation.
The Brooklyn, New York, native shared his "10 Rules of Grit" during his opening keynote address at the third annual Pensacola State College Student Activities Leadership Summit – a virtual event – on Friday, April 23.
"You have to find your higher purpose," Flores told the Zoom audience of about three dozen PSC students, faculty and staff workers. "At a young age, I learned the value of working toward and aligning my passion and perseverance toward a goal."
Flores was just one of the presenters at the summit, which included workshops on crafting and building a portfolio, PSC's wellness services and leadership styles/communication.
The summit was presented by the PSC office of Student Engagement and Leadership.
"We want to provide opportunities for students to learn and grow and develop as leaders," said Abigail Bott Roberts, Student Engagement and Leadership interim coordinator. "But there are various aspects to that – everything from leadership styles to personal wellness."
Flores is a young entrepreneur and motivational speaker who walked over 5,000 miles through 10 countries to document the journey of immigrants to the United States. He has been featured on National Public Radio, MSNBC and TEDX.
Closing keynote speaker Abraham Sculley spoke about his mental health struggles while at the University of West Florida in his presentation "Journaling to Wellness." Sculley's challenges began his second semester at UWF, and he left the school for three months to deal with his depression and mental well-being. He returned and earned a bachelor's degree in psychology in 2019.
"I had a plan all laid out," said Sculley, who was featured in the MTV documentary film "Each and Every Day," a film about youth and mental health. Then, he quoted retired professional boxer Mike Tyson – "Everyone has a plan until they get punched in the mouth."
"I got punched in my mouth during my freshman year," Sculley said. The punch came "from life."
He "suffered in silence," he said, until friends rallied around him to push him toward a better place.
Other presenters were PSC student Julia Riser on "Building a Portfolio," and PSC Wellness Case Manager Jessica Johnson and Veronica Jennings, PSC Sexual Assault and Relationship Violence Prevention program coordinator, speaking about Wellness Service resources. Bott Roberts and Keyaundra Mobley, Student Engagement and Leadership assistant, presented a segment on "Leadership Styles & Communication."
"We're hoping that this all applies to what student leaders are doing on and off campus," Bott Roberts said. "And we know that the additional information on wellness is appreciated because so many students have been overwhelmed and have been experiencing loneliness."