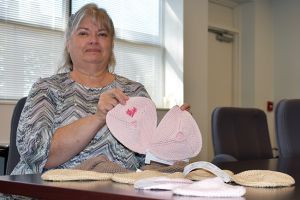 Published: 11-13-2020
Members also handcraft items for Warm Up America! and Operation Gratitude
Mary Mabins, Pensacola State College
Michael Payne taught himself to knit aboard a U.S. Coast Guard cutter in the 1990s. Today, he is among the Pensacola State faculty and staff members who make up the College's Stitchin' to Serve group.
During October (Breast Cancer Awareness Month) and into November, the group made Knitted Knockers that will be donated to women who have had mastectomies and other procedures. The group of knitters, crocheters and seamstresses meets most Thursdays during their lunch via ZOOM.
Knitted Knockers are handmade knit or crochet breast prostheses for women who have undergone mastectomies or other procedures.
"Knitting is a cathartic process when you get going, and you're helping a cancer survivor so why wouldn't you do it," said Payne, who has family and several friends who have beaten the disease.
Traditional breast prostheses are usually expensive, bulky, sweaty and uncomfortable, and typically require special bras or camisoles with pockets, explained Liz Moseley, one of the group's organizers.
"They also can't be worn for weeks after surgery. Knitted Knockers are soft, comfortable, and when placed in a regular bra, they take the shape and feel of a real breast," she said. "Our Stitchin' to Serve members create the Knitted Knockers, and we will ship them to the national organization in Washington state where they are checked, sized, stuffed and distributed."
Since Knitted Knockers was established, more than 3,880 volunteer groups have provided about 211,000 prostheses to those in need.
The Stitchin' to Serve group was the brainchild of Dr. Moseley, director of the Student Resource Center for ADA Services, and Juanita Scott, director of professional development.
Other members include Dr. Debbie Douma, Evelyn Gutknecht, Cindy Hendricks, Andrea Scott, Juanita Scott and Charlotte Sweeney. Moseley said that additional staff and faculty members have donated money and supplies to the group.
"For some time, Juanita and I had kicked around the idea of a handcraft service group that would make things, and also create a way for the College's staff and faculty to connect," Moseley said of the group which started up in June.
"We decided this was the year to make that connection using ZOOM."
Scott who has been crocheting since she was a child said the craft is relaxing, and a nice way to bring balance to the workday ─ all in the name of service.
"My grandmother taught me how to crochet hats, scarves, and even fancy toilet roll covers," said Scott who also creates hooded baby blankets, covers for smart devices and table doilies.
"It's a nostalgic activity that takes me back to those special moments with my grandmother. She encouraged creativity in design, and often gave the finished items away."
Gutknecht, a senior computer systems analyst, already has crocheted 21 pairs of Knitted Knockers.
"I've been crocheting for a while. It was something to fill time ─ a pastime," said Gutknecht, who first tried her hand at crocheting in middle school in the 1970s. "It's something to do that I find relaxing."
Over the years, she has created afghans, cardigan sweaters and other items.
Along with the Knitted Knockers, the Stitchin' to Serve group is making items for Operation Gratitude and the Warm Up America! Foundation.
Each year, Operation Gratitude sends more than 300,000 individually-addressed care packages to U.S. military troops deployed overseas and their children, first responders, veterans, wounded heroes and caregivers. Each package contains handmade items, snacks, hygiene products, entertainment and personal letters of support.
Douma, the College's dean of federal grants and programs, enjoys sewing and so far has made 45 camouflage-print drawstring bags for Operation Gratitude. She still has another 30 to sew.
"I'm also making fleece beanie caps for our military troops. I sew the bags at home and during our ZOOM meetings, I insert the drawstrings," said Douma, who has been a seamstress for many years.
The Warm Up America! Foundation is a non-profit organization that donates knit and crochet blankets and accessories to people in need. The organization trains volunteers to work together to craft blanket panels, join them, organize them, and ship them to people in need.
Stitchin' to Serve members are creating 7-by-9-inch squares for a Warm Up America! afghan. Moseley is also following Scheepje's international Crochet-Along, which involves crafting a blanket and reading Anthony Doerr's Pulitzer Prize winner "All the Light We Cannot See."
PHOTO: Stitchin' to Serve member Evelyn Gutknecht has created 21 pairs of Knitted Knockers that will be donated to breast cancer survivors.
Stitchin' to Serve
Any Pensacola State College faculty or staff member interested in joining the Stitchin' to Serve group should contact Liz Moseley at lmoseley@pensacolastate.edu or call 850-484-2094.