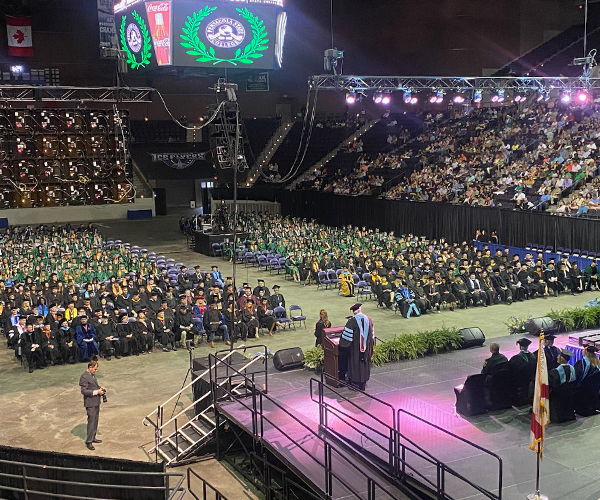 Escambia County Sherriff Chip Simmons, a Pensacola State College alum, told graduates to think about where they started, where they are, and where they're going.
About 450 of the 1,032 eligible for spring graduation attended the 2023 Spring Commencement ceremony held Thursday, May 11, at the Pensacola Bay Center.
But for some listening to Simmons's message, the journey from where they started and where they are was a bit longer than for most.
"I never dreamed that in my lifetime I would earn a bachelor's degree,'' said Laura Fletcher, 58, who received her Bachelor of Applied Science in Business and Management – Project Management concentration. "It's a great sense of pride."
Fletcher, the executive assistant in the PSC Office of Institutional Research, graduated magna cum laude.
Though most graduates are traditional students ─ not far removed from high school, many nontraditional students also made the long and regal processional march in cap and gowns at the ceremony.
Coby Myers spent decades working as a sheriff's deputy in West Virginia before retiring. He loved barbering and went to a barber school in Mississippi. Then, after cutting hair for a bit, he decided to go into the medical field, earned a medical assistant certification, and landed a clinical research job with Ace Health Care Foundation.
On Thursday, Myers, 53, earned an Associate of Science in Nursing degree.
"It was a challenge, but I got through it,'' he said. "Working full-time and going to school was not easy. But it's awesome to finish. I could never have imagined."
He said the degree will help him advance in his work.
"It's definitely important for promotions,'' Myers said. "That's the main reason I did it."
Another nontraditional student, 50-year-old Shawn Comis, earned an Associate in Arts in Computer Information Systems and graduated cum laude. He is the senior network administrator for Covenant Hospice.
"I've been doing this kind of work for 25 years,'' he said. "But without that educational pedigree, you can only advance so far."
Coming back to school after so many years away was challenging.
"I have two children with disabilities and a full-time job,'' Comis explained. "I thought coming back would be intimidating or embarrassing, but it wasn't. It was easier than I thought, and the online flexibility was really convenient. PSC was a perfect place for me."
Simmons told the graduates to find their core values to help guide them through their futures.
"I want you to use your core values as a linchpin for every decision that you make from this day to the next,'' Simmons said. "Be true to your values, your ethics and your beliefs."