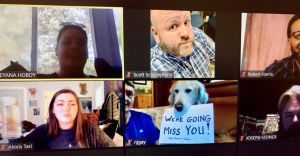 Published: 05-12-2020
Scott Schackmann enjoys seeing 'unexpected surprise' of PSC students
Mike Suchcicki, Pensacola State College
On this particular Tuesday evening, Pensacola State College Spanish instructor Scott Schackmann joined the students in his Spanish II class in their remote classroom, on the Zoom video conferencing program.
Immediately he noticed, in one of the now-ubiquitous Zoom meeting cells, a dog holding a hand-written sign that read, "We're Going Miss You!" (You know dogs: Good with contractions, bad with infinitives.)
The cordial canine was Zack, the service dog of student Jodie Nash. Later, an amused Schackmann noted, "I wish PSC gave the service dogs the same degree — novelty, of course — as the students they assist."
As whimsical as the greeting was, however, it simply served to Schackmann as another example of the caring bond that PSC students form with each other and with their instructors.
"This was our last regularly scheduled class where the entire class would be together," Schackmann says. "It's a one-night-a-week class and they've formed quite the community bond. Ninety-nine percent of them have been together since the beginning of the Fall 2019 semester."
The instructor has seen numerous examples of such community-forming in the almost three years he's taught at PSC.
Schackmann is from a small, rural village called Odin in southern Illinois, about 65 miles east of St. Louis. After earning bachelor's degrees and master's degrees from Southern Illinois University in Carbondale — "Go Salukis!" — his job search brought him to Pensacola and PSC.
"I researched the college and decided that I really liked what I saw," he says. "I applied for an open Instructor of Spanish position and fortunately got the job."
He teaches seven to eight courses each semester, so a vast majority of his time is spent grading, leaving feedback for his students, answering emails — "with lightning speed, ask any of my current and/or former students" — preparing lessons/activities, recording lectures for online course, or researching new technology in the form of apps and equipment, "and constantly learning new ways to best reach a wide variety of students," he says.
In addition to Spanish instruction, Schackmann is one of the lauded members of what's come to be known as the "Zoom Crew," the team of instructors and professors who already were well versed in the ways of online instruction before the COVID-19 threat forced the entire College to adapt to the ways of Live Online classrooms. He and the other team members created training courses, study materials and student tutorials, and acted as mentors to other instructors as the online expansion was rolled out.
In a previous article about the online transition, Schackmann said, "I'm really quite proud of our PSC faculty, staff, and administration during this transition because we really tried our best to focus on not just student success for the coming weeks, but faculty support. We needed to take a faculty with decades of experience and a wealth of knowledge utilizing a wide array of teaching methods and approaches and give them the tools and support to carry on while maintaining a modicum of normalcy."
Schackmann says that at PSC, the common student experience is "unexpected surprise."
"Throughout the course of their time at PSC, many students are surprised by what they learn and the experiences they never expected to have," he says. "I've seen a young dual-enrollment student befriend a 60-plus-year-old nontraditional college returnee, students who may have never been in a classroom community with people from differing ethnic backgrounds, and I've seen some very closed minds begin to open to emerging knowledge."
At PSC, he says, "Students are most definitely experiencing a wide spectrum of experiences. They attend with their various ideologies, belief structures, religious backgrounds, and social constructs from various socioeconomic backgrounds and life experiences. They often seem surprised that stepping outside of their comfort zone isn't so bad. If the proper atmosphere is created in the classroom, I find that people let their guard down and open to new ideas and concepts, even if it's 'just fulfilling a requirement' like Spanish. If I can get one person to say, 'I learned something new in this course,' then I am fulfilled."
To illustrate and encapsulate these experiences, Schackmann steps into the role for which he's become known among his students, that of the Jokester Teacher, and relates one of the dad jokes in his arsenal:
"The Spanish conjugation for the verb 'Ser' — the verb 'to be' in English — is 'Soy.' So, when you're in the grocery store and you walk past the soy milk, is it just soy milk or is it milk introducing itself in Spanish? A teacher must be able to see both. I know it's corny, but so am I and that's OK!"