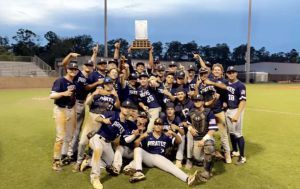 Published: 05-05-2021
Softball team starts state play on Friday
Troy Moon, Pensacola State College
The Pensacola State College baseball team beat Seminole State College 4-3 in dramatic fashion on Wednesday, May 5, in the opening game of the state tournament in Lakeland, Fla.
The Pirates won in the 10th inning when PSC centerfielder Brandon Schrepf scored on a Seminole State throwing error. PSC starting pitcher Patrick Halligan threw nine innings, striking out ten and giving up three earned runs. Jeffrey Wilson pitched relief in the 10th inning and was the winning pitcher, despite facing only four batters.
PSC's second game of the Florida College System State Activities Championship Tournament is against Miami Dade College at 6 p.m. central time, Thursday May 6, in Lakeland. The tournament runs through May 9.
The PSC baseball team went to the state tournament as Panhandle Conference champions, with a 17-7 conference record and a 27-18 overall record before state play began.
The PSC baseball team isn't the only Pirate team with state dreams.
The Pensacola State College softball team speaks with many accents, but with only one voice. And that voice is loud and clear:
"We're ready."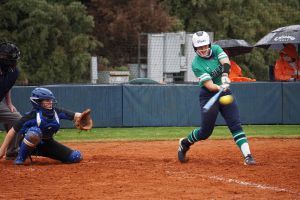 That's the refrain of the PSC squad heading into the softball state tournament, May 7-10 in Longwood, Florida. Pensacola State captured the Panhandle Conference Championship in late April with a two-day, four-game sweep of Gulf Coast State College.
The Pirate softball team finished the season with a 15-5 conference record, tied with Chipola College. But PSC finished with an 29-7 overall record, while Chipola's overall record was 22-17.
Boasting a roster filled with international players – four players from Australia, one from Canada and one from Italy – the Pirate softball teams begins state play on Friday, May 7, against Santa Fe College. The Pirates are seeded third in the eight-team tournament.
"(Winning) Conference is always a goal,'' said Lyndsey Angus, who is in her sixth year as PSC softball head coach. "It's something they wanted to do and it's an impressive thing to do, especially considering we had some key injuries and other players had to step up."
The PSC teams – softball and baseball – have no shortage of big-time players.
In late April, seven Pirate baseball players were named to the All-Panhandle Conference team. Five were first-team selections and two were second-team picks:
First Team:
Darrien McDowell, first base
Brandon Schrepf, outfield
Patrick Halligan, pitcher
Konner Copeland, pitcher
Jeffrey Wilson, pitcher
Second team:
Brayden Morrow, infield
Bayron Acevedo, outfield
Copeland was named the conference's Pitcher of the Year, while Wilson was named top reliever. PSC head coach Bryan Lewallyn was named Panhandle Coach of the Year.
Ten PSC softball players were named to the All-Panhandle Conference team. Seven PSC Players made the First Team, two the Second Team and one received an Honorable Mention.
First Team:
Shaylan Whatman, third base
Monique Poitevin, first base
Mya Geros, outfield
Maddy Childs, catcher
Jenna Trim, pitcher
Heleena Reinhardt, pitcher
Avery Beauchaine, pitcher (three of the four pitchers named to the All-Panhandle Conference First Team were from PSC).
Second Team:
Ellie Hansen, shortstop
Susanna Soldi, outfield
Honorable Mention:
Sajarie Jones, second base
First Team pitcher Reinhardt, who moved from the bullpen to a starting role late in the season, said it's the chemistry that has helped the team stay strong, even as some key players were benched because of injuries.
"We get along so well and support each other," she said. "It makes us play better and it's more important to our success than any skill aspect."
In her Italian accent, Soldi built on the "Team First" theme.
"I believe in my team," Soldi said. "We're strong together. We're good hitters, we're good fielders. I'd say we have high chances (to win the state tournament). We can do it."