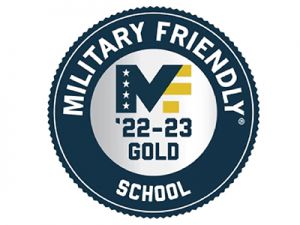 Pensacola State College has been named a 2023-2024 Gold Military Friendly® School by Viqtory Media.
This is the 14th year the College has received the accolade and the second consecutive year earning the gold designation.
Pensacola State is one of 250 schools to receive the gold status for leading practices, outcomes, and effective programs that dedicate resources to military students to ensure classroom and graduation success.
"The College continually strives to provide outstanding support to military service members and their families, and we are very proud to be recognized by Viqtory Media," said Pensacola State President Ed Meadows.
"The gold designation for a second year lets us know we are doing the right things at Pensacola State College."
Military Friendly® ratings are based on six categories: Academic Policies and Compliance, Admissions and Orientation, Culture and Commitment, Financial Aid and Loan Repayment, Graduation and Career Outcomes, and Military Student Support and Retention.
Rob Gregg, director of Veterans Upward Bound, said the 2023 Gold Military Friendly® designation reveals how committed the College is to military students.
"Being awarded Military Friendly® 14 times – including two gold designations ─ speaks volumes to the obligation PSC faculty and staff have toward ensuring active duty and veterans' success within the institution," said Gregg, a U.S. Navy veteran.
"The College continues to engender highly competitive and educated military-affiliated graduates that add value to current and future communities."
During the 2022 Spring, Summer and Fall semesters, Pensacola State had 2,619 veterans, active duty personnel and their dependents enrolled in classes.
Along with two TRIO programs ─ Veterans Upward Bound (VUB) and Veterans Student Support Services (VSSS) ─  the College has a Veteran Student Success Center.
VUB provides veterans with college prep classes and/or GED courses at no cost. The program is open to veterans who are first-generation-in-college students who are considered low-income according to federal guidelines.
Aimed at first-generation-in-college students who are low-income and military veterans, VSSS offers academic advising, career counseling, financial aid counseling and more. Navy veteran Bill Tice is the director.
Headed by Coordinator Tanya Brashers, the Veteran Student Success Center helps student-veterans with advising and resources, performs outreach to area veterans and tries to recruit them to PSC.
"This designation is a reminder that the staff and faculty here at PSC have a significant impact on the lives of individuals who have sacrificed a great deal for our country," added Brashers, a U.S. Navy veteran. "And we should continue to strive to serve these students with the highest merit."
Pensacola State also participates in the Yellow Ribbon Program. Under the program, PSC, in partnership with the U.S. Department of Veterans Affairs, provides matching funds to cover all or a portion of the outstanding amount of established charges not covered under the Post-9/11 GI Bill.
In 2022, 14 military students enrolled in classes at Pensacola State under the Yellow Ribbon Program.
The Pensacola State College Charter School, which opened in August on the Warrington campus, also serves military dependents. As of March 6, seven 10th–  through 12th-grade military dependents were enrolled in the Charter Academy.
Over 1,800 colleges, universities and trade schools participated in the 2023-2024 survey; 530 schools earned gold, silver and bronze designations. Institutions earning the Military Friendly® designation were evaluated using public data sources and responses from a proprietary survey.
The 2023-2024 listing will be published in G.I. Jobs magazine's May edition. It also can be found at www.militaryfriendly.com.
For more information, contact Sheila Nichols, executive director of marketing and information, at 850-484-1428 or snichols@pensacolastate.edu.
To learn more about:
Veteran Student Success Center
850-484-2005 or Tanya Brashers, Veteran Student Success Center coordinator, at tbrashers@pensacolastate.edu.
TRIO Veterans Upward Bound
850-484-1438 or Rob Gregg, VUB director, at rgregg@pensacolastate.edu
TRIO Veterans Student Support Services
850-484-2047 or Bill Tice, VSSS director, at btice@pensacolastate.edu