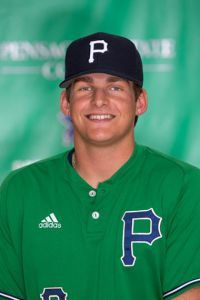 Published: 06-11-2019
Logan Blackmon, a Pensacola State College baseball player, was recently selected the Buddy Kisner Panhandle Conference Student Athlete of the Year and the Dr. Dale O'Daniel Panhandle Conference Male Scholar-Athlete of The Year.
Named in honor of the legendary retired Pensacola Junior College baseball coach, the Buddy Kisner award is presented to the All-Panhandle Conference's top baseball student-athlete.
The Dr. Dale O'Daniel award was named in honor of the administrator who had a distinguished career in higher education that spanned more than four decades.
A 2017 Tate High School graduate, Blackmon played two second seasons with the PSC Pirates. During that time, he was named to the 2019 FCSAA All-Panhandle Conference Second Team, the 2018 NJCAA All-Academic Third Team and a 2017-2018 FCSAA Academic All-State Team honoree.
At Tate High, Blackmon also excelled in the classroom and on the baseball diamond where he was coached by his father, Greg Blackmon. He was selected to the District 7A All-State Baseball Team, the District 7A All-Academic Team and the First Team All-Area.
During his junior year at Tate, Blackmon was chosen for the District 7A All-Academic Team. He also helped lead Tate High to two district championships and two regional championships.