Published: 12-08-2022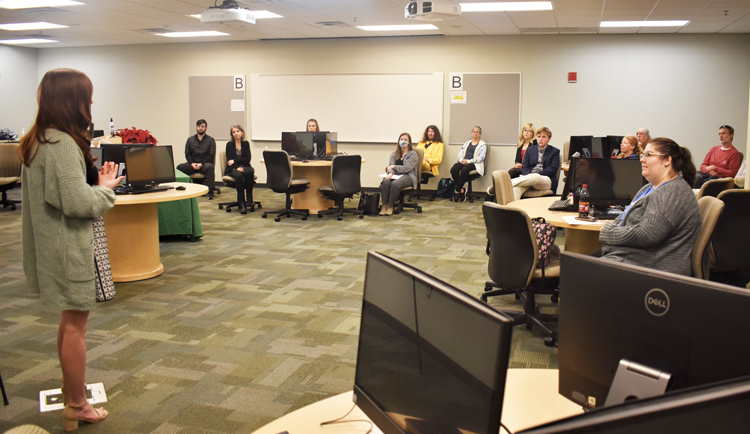 Former Pensacola Mayor Grover Robinson IV walked to Audrey Stemen's poster exhibit and stared quizzically at the topic – "Structure Elucidation of a Copper (I) Thiolate and its Water-Soluble Complex".
"So, what is this?" Robinson asked, requesting Aubrey explain the topic a bit.
She did ─ extensively and confidently. Afterward, Robinson admitted he was "more of a humanities guy," and acknowledged he wouldn't want to take a quiz on Stemen's topic afterward.
But he was impressed at the quality of not only her exhibit, but all the exhibits and presenters at the Pensacola State College Robinson Honors Program's inaugural Student Symposium – A Community of Scholars" held Dec. 2 in Chadbourne Library on the Pensacola campus.
The event featured PSC Robinson Honors Program students and alumni, as well as students from the Honors Program at the University of West Florida showcasing their various research projects. Many of the UWF students who participated were former PSC Robinson Honors Program students, such as Stemen.
The program was named to honor the late Grover and Sandra Robinson III who dedicated many years of service to Pensacola State. The Robinsons' son, Grover Robinson IV, and his wife, Jill, established an endowment with the Pensacola State College Foundation in his parents' memory. The endowment assists in offsetting the cost of small class sizes, seminars, travel scholarships and other unique opportunities associated with the Robinson Honors Program.
"This is awesome to see today,'' Robinson said during the event. "This is exactly why we got involved with this – we believe education is hugely important in helping and promoting a region and allowing the area to move forward. We're very proud of our association with PSC and the Honors Program and the quality of work the students are doing here."
The Student Symposium featured a Culinary Program Showcase, Poster and Protype sessions and individual presentations in the areas of:
Business, Literature, Natural and Social Sciences, History and Humanities. There also was a panel presentation on regional water quality.
Amber Carey, Robinson Honors Program director, said the symposium was inspired by UWF's own student symposium and PSC Biology Professor Melissa Sear's Honors Biology Presentations annual event.
"Melissa and I discussed how we wanted to create a day where all PSC students could present their research and final projects,'' Carey said.
"I took some of the Honors students in the spring to visit UWF's Student Symposium to reduce anxiety about presenting in a such a public forum. Once the students observed the UWF presentations, they realized that they, too, could perform at that level."