Published: 01-19-2023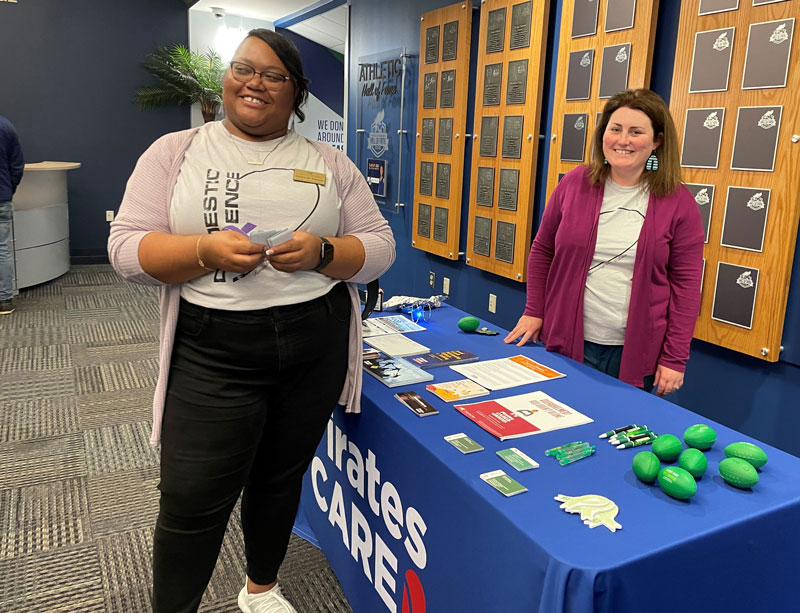 Despite the bumper sticker, life is not a beach. It can be hard. Nearly all Pensacola State College students – 96 percent – are worried about finances.
The PSC Pirates CARE team does all it can to help students overcome financial, physical and mental, emotional and intellectual problems and concerns.
Now, with a new three-year U.S. Department of Education Basic Needs for Postsecondary Students Program grant, the Pirates CARE team can offer even more help to students in need.
The $832,390 grant will establish a one-stop Pirates CARE Student Resource Center to address student basic needs with expanded operations hours and will allow the College to hire two full-time staff members, including a Wellness Support Specialist, and two Pirate Food Pantry part-time student assistants. The Pirate Food Pantry offers free food and other assistance to PSC students in need.
The new Pirates CARE Student Resource Center will provide:
Additional mental health and case management support
Groceries and supplies for Pirate Food Pantries
A Clothing Closet
Direct Assistance with emergency needs such as transportation, housing, day care and more.
Creation of family-friendly spaces
Technology such as laptops and hotspots
An objective is to serve at least 2,250 students during the three-year grant period.
The Resource Center also will help students identify outside resources for assistance. The grant will enable PSC to establish a sustainable Community Partner Council made up of College, public partners and non-profit partners to address student needs.
The Pirates CARE team is a faculty and staff-driven program that aims to meet the needs, concerns and well-being of PSC students who are experiencing a crisis or difficulties outside of the classroom.
"This grant is going to help support students' basic needs – things like transportation, food security, day care costs,'' said Lynsey Listau, PSC Executive Director of Institutional Equity and Student Conduct.
"We know our students struggle with finances and some are even worried about where their next meal is coming from. Others are dealing with mental health issues. With this grant and the Pirates CARE Student Resource Center, we'll be better able to help our students deal with basic needs and things outside the classroom so they can be successful academically."
The 2020 PSC Healthy Minds Study revealed that 96 percent of student respondents were stressed about their financial situation and 60 percent feared that financial concerns would impact their current enrollment.
"The Pirates CARE team has really worked to establish a culture of care across campus,'' Listau said. "Our students know the PSC faculty and the staff they interact with everyday care about who they are, as well as their academic and personal success."
In 2022, the Pirates CARE team assisted more than 500 students and distributed more than 400 bags of food to students and their families at no cost.
The Pirates Care team also assisted students facing a variety of concerns throughout 2022, ranging from housing and homelessness – more than 60 students – to relationship violence – more than 50 students.
The team also assisted 80 students suffering from depression and more than 430 for stress issues.
"When I hit rock bottom, I didn't know how to dig myself out,'' said one student who wished to remain anonymous. "The Pirates CARE team has done a great job helping me figure out different routes to get back on top of my life."
Listau said the Pirates CARE team will continue to assist PSC's most vulnerable students when the grant period ends.
"We're hoping to institutionalize some of the staffing when the grant is gone,'' she said. "We were helping students before the grant and we'll be helping students after the grant. That's what we do."