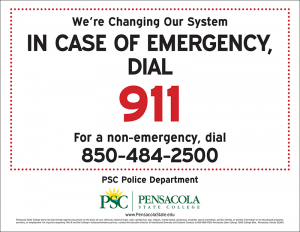 Published: 10-11-2018
As of Monday, Oct. 8, EMERGENCY CALLS for Pensacola State College police assistance must made by dialing 911.
Non-emergency calls can be made by dialing 850-484-2500, or ext. 2500 from a campus phone. The change applies to the College's Pensacola, Milton and Warrington campuses and the Century, Downtown and South Santa Rosa centers.
To request EMERGENCY ASSISTANCE or to report any criminal activity such as burglary, battery, theft of any kind, suspicious person, and medical emergency or to summon a PSC police officer for help, College employees and students should dial 911.  This number will connect callers to a police dispatcher who will contact a PSC police officer.
For non-emergency issues such as unlocking or jump-starting an automobile, unlocking an office door, or a matter requiring the assistance of a PSC public safety officer (not a police officer), College employees and students should dial ext. 2500 from any campus phone. Cellphone users should call 850-484-2500.
This change puts PSC on the same 911 dispatch system used by the City of Pensacola Police Department. PSC Chief Sean Fagan said the measure is cost-effective and will allow PSC police officers to communicate on the same emergency radio channel as Pensacola Police Department.
"PSC officers will still respond to all calls – whether emergency or non-emergency. However, Pensacola Police Department dispatchers will notify us directly," Chief Fagan explained. "Dispatchers with the Pensacola Police Department are highly-trained and 911 certified to handle emergency calls ─ which will allow our department to provide better service to employees and students."
Place EMERGENCY CALLS to 911. Place non-emergency calls to 850-484-2500.
For questions about this change, contact Chief Fagan at 850-484-2500.