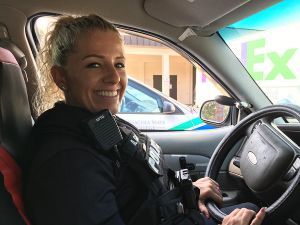 Published: 10-04-2019
By Troy Moon, Pensacola State College
Pensacola State Police Officer Amanda Gary crept up slowly in the squad's new Ford Explorer, stopping right in front of the College's child care center. Then she blasted the screaming siren and the candy-colored lights for just a second.
Just long enough to put a grin on the fresh little faces of toddlers on the playground.
Gary, a Pensacola State College Police Department field training officer – and mom herself – grinned right back.
"We like to come over here and flash the sirens for them, they love it – the lights,'' Gary said, before letting go a quick giggle. "We try to show them young that we're here for them. We're not trying to let them see us in a bad light, we tell them that we're good. We're superheroes is what we tell them."
But there's also practical reasons for the regular patrol drives past the PSC Campfire Child Development Center near the baseball field. There might be a child at the center of a custody battle. Or a parent has been prohibited from seeing a child.
"I feel protective," Gary said of her job. "And you give a little extra more because it does feel like family here."
Gary is one of 11 law enforcement officers that make up the Pensacola State College Police Department ─ one part of the school's Public Safety Department, which also includes 17 non-sworn public safety officers who act as security guards on all campuses.
"Our 11 sworn law enforcement officers have the same arrests powers as officers from any other agency,'' said Pensacola State College Police Chief Sean Fagan, who also serves as Director of Public Safety. "But here at Public Safety we also do everything from providing escorts to and from cars to unlocking their cars when they get locked out."
That's the goal at PSC Public Safety: To protect and serve. And they're serious about serving.
"They do a great job,'' said Lanatta Barrett, a senior administrative assistant in the PSC comptroller's office. Barrett's had the Public Safety Department come to her rescue when she locked her keys in her vehicle. "And they're quick. I've seen them called for help before and they're right there."
Yes, there is crime sometimes on campus. And when it occurs, officers respond accordingly. But much of their duties are aimed at fostering goodwill and a safe atmosphere across all PSC campuses.
"We're part of the College community and we treat each other like family,'' said Fagan, whose Public Safety Department is housed in the College's G. Thomas Delaino Student Center. "We're not here to coddle, but at the same time we want everyone on this campus to succeed. Anything to help that mission – that's what we're going to do."
The sworn-and-non-sworn officers of the PSC Public Safety Department are integrated into campus life. They can often be seen chatting up students and staff. They often show up at orientation sessions for new hires, just to say hello and let folks know they're here. The department's office – where students, faculty and staff go for ID cards and parking decals – is just steps away from where students eat their lunch, lounge and study.
What students and others don't know is that behind the Public Safety Department lobby area, a secure door conceals the various offices where weapons are stored, evidence is kept and a dim-light dispatch room with various monitors showing various parts of campus.
Some folks have a misconception about college and university police, said Fagan, who previously worked as a police officer at the University of West Florida, the Pasco County Sherriff's Office and the Santa Rosa Sheriff's Office, where he served as a crime scene unit supervisor.
"The misconception is that we don't receive the same training,'' Fagan said. "It's the complete opposite." He said Pensacola State police officers even do active shooter training with local departments.
"You can imagine, if we had an active shooter everyone would be coming,'' he said. "So we all need to be familiar with how the different agencies train and react."
Gary – who previously spent four years as a Pensacola Police Department officer – like all the PSC law enforcement officers is trained in every aspect of police work. PSC police officers wear the same protective gear. They wear front-mounted cameras. They carry numerous weapons, including non-lethal weapons like pepper spray and very-lethal ones like the Glock 22 and Glock 23.
They have to. Because there is crime on campus. Not a lot. But still…
In 2018, there were five burglaries and two reports of motor vehicle theft on the College's Pensacola campus. PSC police officers also responded to one report of dating violence and two reports of stalking. Officers arrested two people in 2018, both for drug abuse violations.
The College's other campuses had even less crime. In 2018, the Milton campus and PSC Downtown Center reported no criminal offenses on campus.
"What we deal with a lot is the outside element trying to come on campus and cause problems,'' Fagan said. "We sometimes have aggressive panhandling. Our mission is to keep this campus and everyone on it safe."
He said not every law enforcement officer has the personality to police a college or university campus.
"Not everyone can do this job," Fagan said. "It takes a certain person who is outgoing and friendly and wants to make a difference in someone's life. That's not to say there aren't officers with other agencies who don't have the same drive, but having worked in both areas, when you're working with the Santa Rosa Sheriff's Office or Escambia County Sheriff's Office, you're going from call to call and that's pretty much what your day is. There's not a lot of time for proactive community policing."
Gary feels the same.
"It's completely different," she said, then talked about her time patrolling Pensacola's toughest neighborhoods as a city police officer. "I was going to a different residence every day, and I wasn't really learning about who I was with."
At Pensacola State, it's different.
"Here, you have to make friends with these people," she said. "That's how you solve crimes. This is how you get people to talk to you. This is how you really get to help people – by getting to know them. I feel like this is my own little community."
At a glance
The Pensacola State College Public Safety Department offers these services:
• Vehicle parking decals
• Car start and key assistance. (On campus only.)
• Police escorts, when requested, to ensure safety, especially during night classes.
• Police Officer Assistance: 850-484-2500. (This is the Central Dispatch number)
•The Public Safety Department office is located in Building 5, the G. Thomas Delaino Student Center.
PSC Alert
The PSC Alert system provides time-sensitive emergency messages to students, staff and faculty, all who are automatically registered to receive emergency messages and urgent notifications at their campus email address. To receive alert messages through text, voice and/or personal email, a person must set up an online profile.
Students can set up their profile by logging onto Spyglass, then clicking on the PSC Alert icon and entering their information.
Faculty and staff can set up their profile by logging into e-Human Resources, clicking on the PSC Alert Icon and entering their information.
Kelly Employees are not automatically registered in the PSC alert system and must set up their profile at administrativeservcies@pensacolastate.edu.