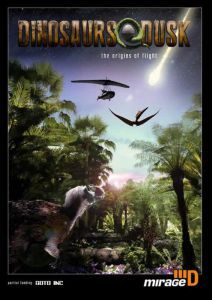 Published: 09-30-2016
Pensacola State College's planetarium features a new animated, 3-D show, "Dinosaurs at Dusk," at 6 p.m., Friday, Oct. 14, and 10 a.m. Monday, Oct. 17.
Also showing is the perennially popular "Pink Floyd's Dark Side of the Moon" at 7:30 p.m., Friday, Oct. 14.
Located in Building 21, on the Pensacola campus, the planetarium doors open 20 minutes before show times. No one is admitted after the show begins.
"Dinosaurs at Dusk" runs 45 minutes and is a whirlwind time travel adventure back to the epoch of the dinosaurs. Geared for the entire family, this full-dome show follows Lucy and her father, who investigate an Earth teeming with Pterosaurs and the ancestors of modern-day birds, the feathered dinosaurs.
Join the explorers as they soar through wide open canyons; sail over tumultuous oceans; hike through tropical rain forests, climb large ice cliffs, and parachute into vast sink holes – all the while chasing and sometimes running away from all manner of dinosaurs.
"Dark Side of the Moon" runs 40 minutes and appeals to adults. Lose yourself in Pink Floyd's legendary rock 'n' roll masterpiece, enhanced by PSC's high-definition, full dome video system. Surround sound and mesmerizing images create an unforgettable experience. More than a laser show, it's a totally new digital revolution in sight and sound.
Tickets for "Dinosaurs at Dusk" are $4, preschoolers; $5, grades K through 12; and $6, adults. All tickets to "Dark Side of the Moon" are $6.
Tickets must be purchased in advance; no ticket sales at the door. Tickets are available online using Vendini and at the Lyceum Box Office, Building 8, Room 861, from 8:30 a.m. to 4 p.m., Monday through Friday.
For ticket information, call the Lyceum Box Office at 850-484-1847. For planetarium information, go to http://planetarium.pensacolastate.edu/.