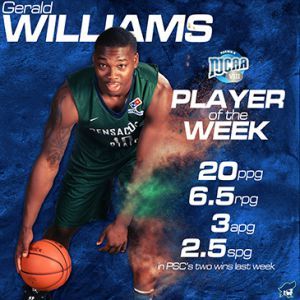 Published: 02-20-2018
Pensacola State College Pirate Gerald Williams was selected the NJCAA Region 8 Basketball Player of the Week for Feb. 12-18.
Recently, Williams, a 6-foot 5-inch guard for the Pirates:
Averaged 20 points, 6.5 rebounds, 3 assists and 2.5 steals in two games during the voting period
Shot 53.8 percent (14-of-26) from the floor, was a perfect 7-for-7 on three-pointers and hit 5-of-6 (83.3 percent) free throws
Helped surging Pensacola State to two crucial Panhandle Conference wins, including an 87-70 upset of top-ranked and previously unbeaten Northwest Florida State College
Prior to the Northwest Florida State College upset, he hit two three-pointers in the final 15 seconds, including one at the buzzer to erase a five-point deficit and beat Tallahassee State College 81-80 – he finished with 22 points that night and was 4-for-4 from long distance
Had 18 points, seven rebounds, three assists and three steals against Northwest Florida State College.
A sophomore, Williams is from Brooklyn, N.Y., and played at Westinghouse High School where he averaged 15 points, 10 rebounds, and 3 assists per game.