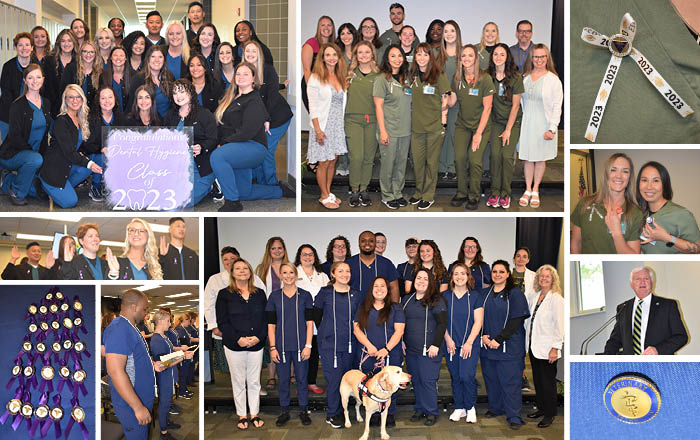 Maria Garcia spent 22 years in the United States Air Force, rising to Senior Master Sergeant. Now, she is a physical therapist.
Sarah Brunner gave birth to her second child on Feb. 20 ─ deep into the final stretch of intense studies. Now she is a veterinary technology graduate.
Shelbey Odom was an academic standout and program scholar who led Pensacola State College's Student American Dental Hygienists' Association (SADHA) and will now venture into the field.
All three received occupational pins at the PSC Department of Health Sciences pinning ceremonies on Tuesday, May 9, at the Warrington campus. There were three different ceremonies:
Associate in Science in Physical Therapist Assistant – 12 students pinned.
Associate in Science in Veterinary Technology – 12 students pinned.
Associate in Science in Dental Hygiene – 25 students pinned, including six currently serving in the U.S. Navy.
All students pinned graduated with Associate in Science degrees on Thursday, May 11.
PSC President Ed Meadows and Marjorie Moore, PSC Board Trustee, attended all three ceremonies and congratulated the students on their successes.
"I want to congratulate you for your accomplishments,'' Meadows told the physical therapist assistant students. "Hopefully, I won't see you in a clinical setting."
After undergoing physical therapy a few years after an injury, Garcia decided to become a physical therapist assistant. In the Air Force, she worked in aviation maintenance administrative support toward the end of her military career.
"I was thinking of my future after the Air Force,'' she said. "I was looking for a career change, and this program has been great for me."
Brunner finished her difficult veterinary technology classes through the pregnancy and birth of her second child.
"I've always had a passion for animals, and this is something I've always wanted to do,'' she said. "But it was difficult and stressful and a lot of work, but everyone (at PSC) was so accommodating and helped me get through it."
SADHA president Odom addressed her classmates during the Dental Hygiene pinning ceremony.
"We have all been through so much together,'' said Odom, who was named the Dental Hygiene Program Scholar at the PSC Student Excellence Awards ceremony in April.
"We've seen each other get engaged and married. We've walked through loss and heartache, and even after six weeks of giving each other local anesthesia injections, we still manage to like each other."
During the Dental Hygiene Pinning Ceremony, two student awards were presented. Dakota Thornton won the Colgate STAR Award for excellence and commitment to the profession. Maranda Garcia received the Golden Scaler Award, which recognizes the clinical talent of an individual student.
The three pinning ceremonies weren't the only recently celebrated by the PSC Department of Health Sciences, which Department Head Mitzie Sowell leads. On Thursday, May 5, 75 PSC nursing students received their nursing pins.
Dr. Amy Arnold is the program director. The Associate in Science in Physical Therapist Assistant graduates are:
Courtney Bamonte
Lauren Beltz
Danielle Bethea
Susan Chandler
Maria Garcia
Christina Grogan
Abigail Millard
Tyler Sanders
Jennifer Sauls
Talia Trematerra
Victoria Weiland
Brooke Williams
Sarah Meyer is the program director. The Associate in Science in Veterinary Technology graduates are:
Tavian Blunt
Jamie Bowling
Sarah Brunner
Annabelle Clark
Tiffany Lands
Iliana Martinez-Soriano
Yasamin Mikhchi
Haley Neal
Lisa Skipper
Joy Slattery
Abigail Stys
Sydney Tumblin
Donna Winterberry is the program director. The Associate in Science in Dental Hygiene graduates are:
Alex Bennett
Simone Bracy
Briana Branstetter
Skye Clauson
Christina Ecker
Maranda Garcia
Mackenzie Gatewood
Natalie Gray
Melinda Hoffman
Lauren Hogue
Lana Jastrzembski
Chenglin Li, U.S. Navy
McKenna Marsh
Rebekah Milliken, U.S. Navy
Cari Milton
Shelbey Odom
Tiffany Odom
Naienza Osawa, U.S. Navy
Christopher Park, U.S. Navy
Ronalyn Peralta, U.S. Navy
Paleigh Perkins
Jennifer Ricker
Katherine Spencer
Dakota Thornton
Zsania Ward, U.S. Navy