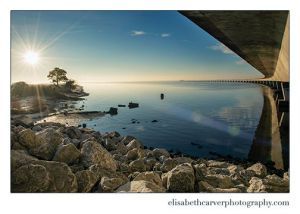 Published: 05-08-2020
Troy Moon, Pensacola State College
A photography exhibit by Pensacola State College student Lisa Carver is on display at one of Pensacola's favorite restaurants.
Carver, a PSC photography student, won the PSC Sunset Photography competition in February, earning the chance to hold her own monthlong exhibit at Jaco's Bayfront Bar & Grille in downtown Pensacola.
Each February, Jaco's hosts a competition for PSC students where restaurant patrons vote on their favorite photograph, with the winner receiving the exhibition.
Last year, Carver received Honorable Mention in the PSC Sunset Photography Contest. This year, eight PSC photography students participated in the February contest.
"It's such a great opportunity for all of us,'' said Carver, who hopes to compete her associate degree in spring 2021. "We all get a chance to compete and show our work in public. And Jaco's has been very generous and welcoming and helped our department out so much."
Carver's exhibit opened on May 6 and runs through June 3 at the restaurant located at Palafox Pier. She has 14 photographs on display at the eatery, which has hosted the photography contest since 2014. The exhibit was originally supposed to open in March but was postponed because of the COVID-19 shutdown.
The exhibition is just part of Jaco's support of the College's photography department. Jaco's has contributed nearly $8,000 to the photography department since 2018. The funds are used for scholarships and program support.
"Jaco's has really been wonderful, and very supportive of the Photography program,'' said Mark Francis, PSC Photography program coordinator. "They contribute annually and created incentives for the students. They also offer a scholarship to an incoming freshman photography student. It's been an amazing experience for our students."
Of Carver, Francis said "she is very dedicated and well-versed in all the aspects of photography. She can basically do it all, and her work almost always has an emotional component to it."
After graduation, Carver hopes to work in documentary photography.
"Hopefully with a human rights organization, or a conservation organization,'' she said. "You want your work to mean something."
PHOTO: Lisa Carver's "Garcon Point" photo.