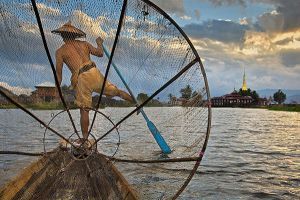 Published: 02-14-2017
Stroll through the Anna Lamar Switzer Center Gallery and experience the visual delight of more than 70 works from Pensacola State College's Permanent Collection that are on display now through March 10.
For the past 47 years, Pensacola State has been collecting works from the gallery's annual exhibitions, including the Switzer Distinguished Artist series, as well as collecting historical pieces and works from masters such as Picasso and Matisse.
Among the renowned artists who have donated pieces to the PSC Permanent Collection are avant-garde artists Christo and Jeanne-Claude, National Geographic photographer Steve McCurry, potter Paul Soldner, Civil Rights photographer Art Shay, mezzotint printmaker Carol Wax, and fiber artist Jo Stealey.
Containing approximately 550 pieces, the permanent collection was last featured in a full exhibition during its 40th anniversary in 2011.
Gallery Director Vivian Spencer said the current exhibition, "Junction," comes at a time when the Switzer Center is poised to look back at the legacy of the PSC visual arts department and gallery while awaiting the opening of the new Charles W. Lamar Studio.
"It is significant that a collection of contemporary art work from today's most relevant artists is housed and cared for by the Switzer Gallery," Spencer said. "Pensacola State College has committed to the long-term conservation, acquisition, and exhibition of the Permanent Collection, assuring these works will be held in the public's trust for years to come."
The exhibition is free and open to everyone from 8 a.m. to 9 p.m. Monday through Thursday and 8 a.m. to 4 p.m. Friday. The public is also invited to a reception from 6-8 p.m. Thursday, Feb. 16, at the gallery.
Switzer Gallery tours are available with prior arrangements by calling 850-484-2550.