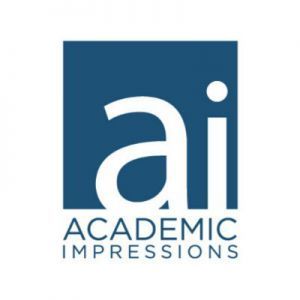 Published: 01-22-2021
Pensacola State College students, faculty and staff members soon will have access to a world of professional development training – all available online.
The College has partnered with Academic Impressions ─ a professional development resource that focuses on providing leadership, personal development and skills-based training opportunities. The content is delivered mostly through live and recorded webinars.
"We were able to purchase this institutional membership through our Title III grant, and it offers some diverse and strong training opportunities for staff, administration, and even students," said Kathy Dutremble, dean of Student Affairs.
The year-long membership also will allow Pensacola State access to all live and recorded webinars free of charge.
Martha D. Vignes, Title III activities director, said Academic Impressions offers more than 1,500 resources. Training options also include courses specific to Title III grant objectives: retention, degree completion, and overall student success strategies for at-risk students.
"These courses are evidence-based and presented by subject matter experts through webinars and on-demand videos. At a time when our nation's colleges and universities are all challenged with decreased enrollment, Pensacola State staff members have the opportunity to access best practices and cutting-edge methods to help our students persist in the midst of a pandemic and unstable work environment," Vignes noted.
Academic Impressions will officially launch at the College on Monday, Jan. 25. Niecie Washington, an Academic Impressions senior meeting planner, will be the PSC liaison.
Juanita Scott, director of professional development, is most excited about the Academic Impressions Learning Plans.
"Learning Plans allow departments and programs to customize training based on specific needs. All Learning Plans include a 'Reflection' piece where participants document highlights of the training experience and ways they plan to implement strategies shared during the training," she explained.
"Our ultimate training goal is student success and each resource is connected to that goal. SPD will schedule a series of orientation sessions that will be open to anyone looking to maximize training and enhance their professional development."
Based in Greenwood, Colorado, Academic Impressions has served approximately 3,500 higher education institutions over 18-plus years. Also, more than 200,000 post-secondary faculty and staff members have enrolled in sessions ranging from leadership; women in leadership; academic leadership; faculty success; institutional and academic planning; student success; enrollment management and marketing; advancement; diversity, equity and inclusion; and Title IX compliance.
To learn more about Academic Impressions, visit academicimpressions.com.