Published: 01-19-2023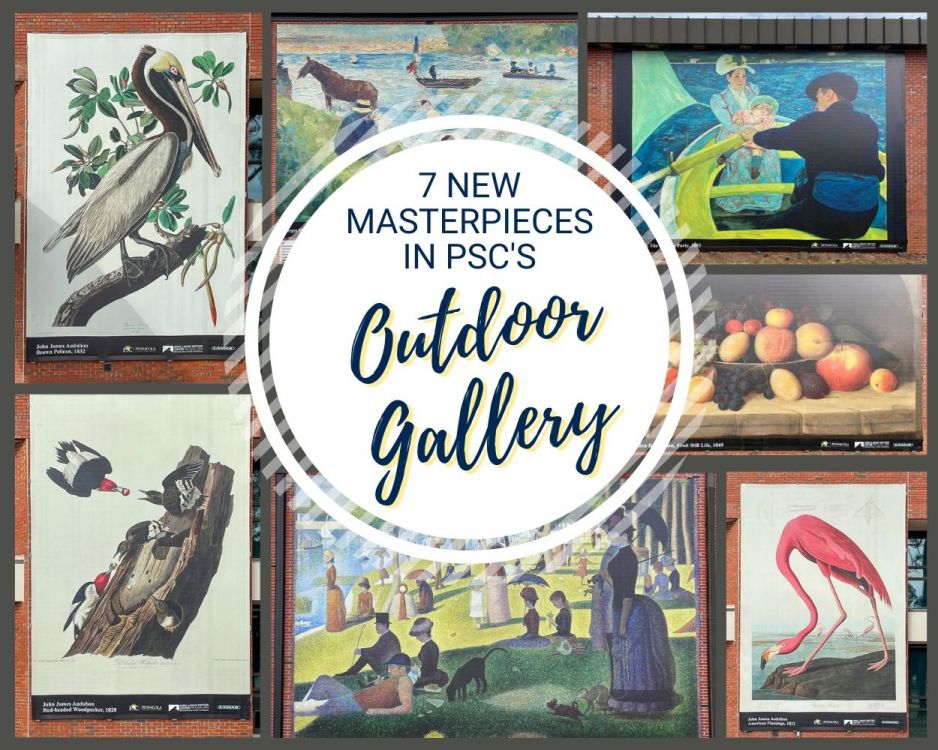 If you ever need to give directions to the Chadbourne Library, just tell folks to look for the three giant birds. They can't miss them. They are nearly 23 feet high. That's taller than a T-Rex!
The Pensacola State Visual Arts Department has added seven new art installations to the College's Outdoor Gallery – including the three large reproductions of works from legendary artists/naturalist John James Audubon's "Birds of America" series – "Brown Pelican," 1832, "Red-headed Woodpecker,'' 1828 and "American Flamingo," 1838.
Each of the reproduced artworks is 22 feet 6 inches tall and 15 feet wide. They are installed on the southeast wall of the library.
The Audubon pieces are just three of the seven new artworks that were installed in the PSC Outdoor Gallery at the beginning of the spring semester. The others are:
"Horse and Boats,'' 1883 and "A Sunday on La Grande Jatte,'' 1884, George Seurat. Both are on the east wall of the Lou Ross Center facing the track area.
"Fruit Still Life", Robert Seldon Duncanson, 1849. South wall of Building 4.
"The Boating Party,'' Mary Cassatt, 1893. South wall of Building 4.Four other art pieces were installed in November and more are expected later this year. The pieces installed in November:
"Great Wave Offshore at Kanagawa,'' Katsushika Hokusai, 1831. West wall of Building 4
"Nighthawks,'' Edward Hopper, 1942. West wall of Building 8.
"Vase of Flowers,'' Jan Davidsz. de Heem, 1670. North wall of Building 14.
"The Railway,'' Edouard Manet, 1873. South wall of Building 14.
The artworks are made from recycled materials and produced and installed by Lamar Advertising, which is partner in the Outdoor Gallery with the PSC Visual Arts Department.