Published: 05-09-2022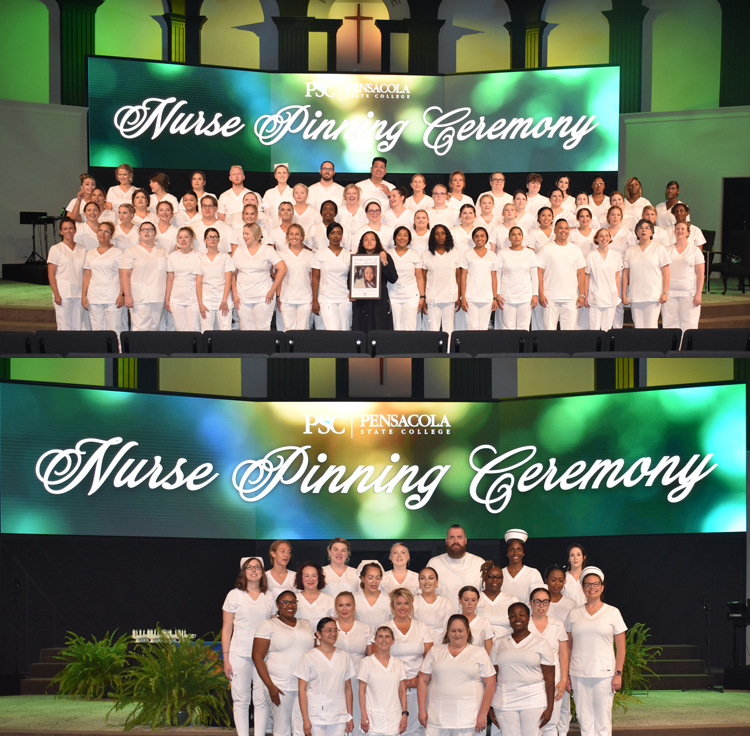 By Troy Moon
Pensacola State College
There were supposed to be 95 Pensacola State College students walking up to have their nursing pins pinned upon them at the Thursday, May 5, ceremony.
Yet in the seat where Jessica Cornelius should have been, there was only her framed portrait. When during his remarks, PSC President Ed Meadows told the students to look back toward their family and friends in the audience who had supported them during their academic journey, there was no sweet face that smiled and waved in gratitude to Jessica's family.
Jessica Cornelius, a mother of four children, died suddenly and unexpectedly on Feb. 4, 2022. She was 39 years old.
Yet despite their immense pain, Jessica's four children, her fiancé Paul Salas, mother, brother and other family members showed up to honor her and her classmates. Daughter Ayanna, 14, took the stage when her mother's name was announced and was pinned in her name.
The 2022 PSC Department of Health Sciences Pinning Ceremony was held at First Pentecostal Church.
"She wanted to help people, that's why she wanted to be a nurse,'' Ayanna said. "That's the reason she wanted to do it."
Salas, father of her children, said the family is proud of Jessica's accomplishments.
"She worked so hard,'' he said of Jessica's pursuit of nursing. "So, it means a lot to be here today for the ceremony."
He said Jessica's classmates and College officials reached out to the family after Jessica's death.
"That meant a lot, especially from her classmates,'' he said.
When the nursing students did turn to their families to wave to them and thank them, there might have been some understandable sadness, but Salas said the family was and is proud of all the graduates.
"It's a great moment,'' he said. "They all worked hard and we're really happy for all of them."
Cornelius was one of 95 Associate of Science Degree in Nursing Students who received nursing pins and lit nursing lamps at the ceremony. The students graduated on Sunday.
Thirteen other students earned Bachelor of Science in Nursing degrees during Spring 2022 semester.
"Nursing is a calling,'' said guest speaker Mark Faulkner, president and CEO of Baptist Health Care. "You literally will impact people's lives. You will impact lives forever."
Students who earned Associate in Science Degree in Nursing include:
Kaila Abeleda, Crystal Aiken, Nina Anria, Briahna Baird, Tamera Bandel, Emilee Barr, Mimie Baumert, Gracie Bellone, Sharon Benton, Amos Betonio, Dyshawna Bettis, Tyler Bradsell, Gracie Brock, Michael Brown, Kailei Bryant, Victoria Burnett, Nancy Caffrey, Joshua Carey, Jamila Codrington, Katie Collins, Jessica Cornelius, Amber Davis, Baily Davis, Holly Dawson, Rhiannon Dearth, Brianna Diel, Tara Dizor, Troy Duncan, Bradylee Emery, Briana Esterberg, Payton Estridge, Georgia Fatolitis, Jillian Fillingim, Laurel Fleming, Ragan Franzone, Carole Funderburk, Laura Gardiner, Sharaina Gilchrist, Dustin Goodwin, Quadeja Gray, Brittany Green, Melissa Haeffner, Brianna Hale, Hannah Hiatt, Jordyn Hill, Michael Hoang, Tristain F.Holmes, Amanda Inge, Kimberli Jenkins, Skylier Jerkins, Summer Jernigan,  Morgan Johnson, Catherine Jones, Esther Kim, Abigail King, Shannon King, April Krusen, Mary Lafrancis,  Ryan Lantz, Tiffany Legg, Gretchen Lorinczy, Ashleigh Lutz, Courtney Manning, Anna McDuff, Jordon McGee, Laura Meredith, Elizabeth Miranda, Brittany Moore Curtis, Pamela Moses, Elwood Naquin II, Stephanie Nightengale, Madison Northen, Macie Palaroan, Lisa Pressley, Quentin Pressley, Caitlyn Rigby, Wendy Roberts, Amber Sherwood, Anna Sierra, Alicia Stack, Lytasha Stanton, Madeline Stone, Shauna Stoute, Jasmine Taylor, Laura Taylor, Luke Turner, Maria Twining, Lauren Vargas, Brandy Wallace, Tamakee Westbrook, Jamie Wilbur, Madalynn Williams, Techaka Williams, Samantha Windham and  Ashley Woodard.
Thirteen students who have previously received their nursing pins were awarded a Bachelor of Science Degree in Nursing: Shartari Brown, Laura Fane, Kelly Frost, Octavia Griffin, Jeremy Howell, Anastasia Josey, Elizabeth McCrary, Angela Petche, Charity Radford, Linda Rindt, Katie Snyder, Halie Spain and Cora Walker.