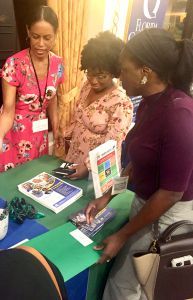 Published: 10-24-2019
Taking advantage of an excellent opportunity to interact with prospective faculty while also sharing the benefits of teaching at Pensacola State College, Dr. Rameca Vincent Leary, Coordinator of Diversity Initiatives, recently participated in the 35th Annual McKnight Fellows Meeting in Tampa, Florida.
More than 300 McKnight Fellows and professors were in attendance.
"It was an electrifying experience to interact with McKnight fellows from across the state of Florida," Leary said. "They are self-starters with bright futures who would be great additions to the PSC family."
This year's conference featured a "Dialogue with Exhibitors" dinner, at which Leary had an opportunity to address the benefits of teaching at PSC. As an exhibitor, she also mingled with prospective faculty and industry experts from the Program's current doctoral students, recent graduates, and established professionals.
"From adjunct to full-time positions, several Fellows showed great interest in expanding their horizons at PSC," Leary said.
Founded in 1984, the McKnight Doctoral Fellowship Program supports record numbers of African American and Hispanic students with innovative practices designed to help fully develop their talents and expertise. The Annual Fellows Meeting is just one in a series of conferences, year-round online workshops, and annual research and writing institutes that inform, train, and connect doctoral Fellows. These recurring efforts to evaluate and refine the support system contribute to the development of scholars who are among the brightest in the nation. They are motivated and prepared to meet the divergent needs of communities, academia, and industry.