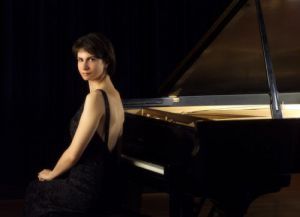 Published: 09-07-2017
The Kamerman Piano Series at Pensacola State College presents classical pianist Marina Lomazov at 2:30 p.m. Sunday, Sept. 17, in the Ashmore Auditorium, Building 8, on the Pensacola campus, 1000 College Blvd.
Praised by critics as "dazzling" in the New York Times, "a diva of the piano" in the Salt Lake City Tribune, and "a mesmerizing risk-taker" in the Cleveland Plain Dealer, Ukrainian-American pianist Marina Lomazov has established herself as one of the most passionate and charismatic performers on the concert scene today.
A Steinway Artist and winner of numerous international piano competitions, Lomazov has performed in nearly all 50 United States and throughout South America, Europe and Asia. She has given major debuts in New York, Boston, Chicago, Los Angeles, Shanghai and Kiev. Additionally, she has performed as soloist with the Boston Pops, Rochester Philharmonic, Eastman Philharmonia, Chernigov Philharmonic in Ukraine, and KUG Orchester Graz in Austria.
Currently, Lomazov is the Ira McKissick Koger Professor of Piano at the University of South Carolina where she is founder and artistic director of the Southeastern Piano Festival.
The Kamerman Piano Series was established in 2013 to bring concerts by international classical pianists to local audiences.
Tickets are $11 for reserved admission; $9 for seniors 60+, children and non-PSC students; $7 for PSC Alumni Association, PSC Seniors Club and PSC employees; and free for PSC students.
Purchase tickets online at https://lyceum.pensacolastate.edu/ or at the Lyceum Box Office, Building 8, Room 861, from 8:30 a.m. to 4 p.m. Monday – Friday. Tickets are also available at the door one hour before a performance.
For reservations or more information, call the Lyceum Box Office at 850-484-1847.