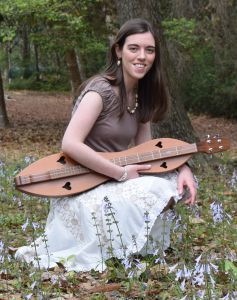 Published: 10-30-2020
Mary Mabins, Pensacola State College
As a child, Jessica Comeau was fascinated by the sweet sounds of the mountain dulcimer.
Now more than 16 years later, Comeau, a Pensacola State College adjunct instructor, shares her love of the instrument with others through performances and most recently lessons.
"My earliest encounter with the mountain dulcimer occurred when I saw my grand mom playing one at her house while my father played guitar," recalled Comeau, who teaches in the College's English and Communications Department.
"However I did not begin playing the mountain dulcimer until I received a special invitation to do so. When I was 14 years old, I was at the University of West Florida's Festival on the Green, and during a performance on the main stage, a local Celtic group, Sweet Prospect, invited audience members who were interested in learning to play the dulcimer to come to a meeting of the Dogwood Dulcimer Association."
It was at that meeting where Comeau encountered an entire room of musicians playing the unique American zither together. Since then, Comeau said she has enjoyed "many happy years of making music and meeting friends in the dulcimer community." She also has inherited her grandmother's instrument.
For those not familiar with the dulcimer, it is a fretted string instrument. Original to the Appalachian region, the three- or four-string dulcimer has several nicknames including harmonium, hog fiddle, music box, harmony box and mountain zither.
This past summer, Comeau planned several performances but COVID-19 halted her travels. Instead, she now offers workshops via ZOOM.
"I had already been tutoring in the PSC Writing Lab through ZOOM and had shortly after begun teaching private mountain dulcimer lessons online," she said, adding online workshops seemed a natural way to adapt to the cancellation and postponement of live festivals.
"Moreover, the mountain dulcimer community is truly global, and because we have generally become more open-minded now about online meetings, we have an even greater opportunity to connect with players from around the country and the world."
Comeau plans to continue offering dulcimer workshops at least monthly for the foreseeable future. The workshops are $15 each and to register, email your preferred email address to www.JessicaComeauDulcimer.com for billing purposes.
Comeau also plays the standard mountain dulcimer, keyboard and angel wing harp. On her most recent album, "Faerie Memories: Fantasy Music with an Acoustic Heart," she incorporated the three instruments and a baritone mountain dulcimer into her musical textures.
"I am also a singer and songwriter. I have been called a mezzo-soprano, and I gravitate toward an alto range. My original songs speak about both the stories and beliefs I have cherished throughout my life," she said.
A product of a musical family, Comeau grew up with a father who has been involved in music ministry at the family's church since 1975.
"Music has always been an active part of my life. It was in this context that I began to discover my musical voice both literally and figuratively. Even without consciously planning it so, my concerts often end up being hosted in a church," she said.
A graduate of St. Thomas Aquinas Academy, an independent home school program, Comeau earned her bachelor's degree in English and a master's in curriculum and instruction from the University of West Florida.
"My music education included voice lessons during high school, long-term involvement with church choirs and music ministry, and particularly being a professional cantor and mountain dulcimer instrumentalist at St. Paul Catholic Church," she added.
Comeau has worked at Pensacola State since 2017, primarily teaching developmental writing and reading. She also is an assistant in the Writing Lab and has offered mountain dulcimer classes through the Continuing Education Department.
As with most performers, COVID-19 has impacted her normal schedule.
"In ordinary circumstances, I travel on about a quarterly basis to mountain dulcimer festivals to teach and perform," she said. "Recent highlights of my travels include Redwood Dulcimer Day (Santa Cruz, California); Melodies and Musings, a festival sponsored by the National Endowment for the Arts (Guntersville, Alabama); Kentucky Music Week (Bardstown); and a Celtic concert in Leakesville, Mississippi."
In 2021, Comeau plans to go to England for Dulcimers at Halsway Week ─ a special folk culture event hosted in Somerset within the British National Center for Folk Arts at Halsway Manor.
To register for a workshop
The workshops are $15 each and to register, email your preferred email address to www.JessicaComeauDulcimer.com for billing purposes.
To learn more about Jessica Dulcimer, visit:
● www.JessicaComeauDulcimer.com
● www.youtube.com/JessicaComeauDulcimer
● www.facebook.com/wildflowersJessicaComeau/
● www.facebook.com/JessicaComeauDulcimer/