Published: 07-20-2022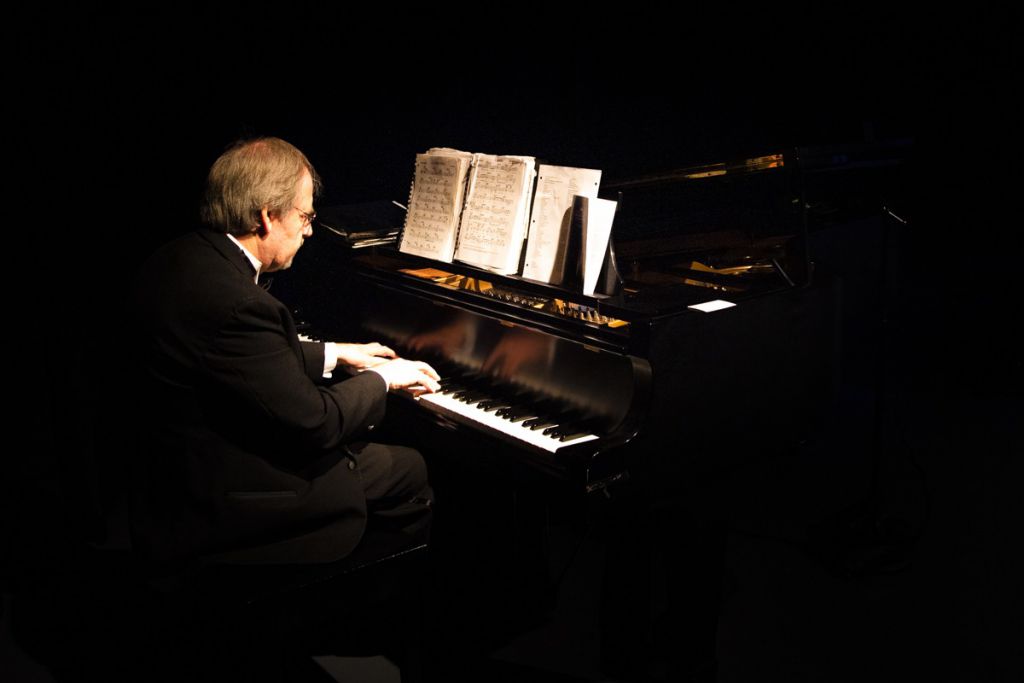 Pensacola State College adjunct music instructor Michael Coleman wowed judges in Vienna with his piano composition "Room 857."
But he might have put a little scare into a PSC public safety officer or two back in the day when he was composing the moody, sometimes jarring piece in Room 857 of Building 8 – Ashmore Fine Arts Center, a building which has a reputation of being a little spooky. There have been reports of apparitions. There have been eerie sounds heard late at night on occasion. (We don't want to scare away potential students. It's just stories. But…)
"I heard stories about security guards who didn't want to go in at night,'' Coleman said. "I don't know what they heard that scared them."
It might have been Coleman's "Room 857,'' which recently received the highest score in the solo piano composition category at the Franz Schubert Conservatory's World Championship in Composition competition in Vienna.
Coleman's "Room 857" finished in second place in the overall competition among 12 categories that included chamber, orchestra and vocal works. His composition "Chaconne No. 1" tied for fifth in the solo piano composition competition.  Coleman sent in an audio file of both compositions and performances and did not have to travel to Austria.
"Room 857," to be honest, is beautifully atmospheric and emotionally charged and yes, dark and anxious. You (listen here) can imagine it as a soundtrack to some moody classic gothic thriller. It is not a lullaby.
Coleman composed the piece in 1995, though he has been tweaking the notation for years.
"I'd stay up here all night and whenever I knew the security guard was in the building, I'd hit the lights (in Room 857) and just make eerie sounds like this," he said.
He played a few tense moments of "Room 857," which features prominent use of an original effect he created in the early 1990s that is referred to as the "Coleman Effect."
In the "Composer/Performance Notes" for "Room 857," Coleman describes the effect as such:
"Gradually raise the damper pedal in extremely small increments to allow the felts on the dampers to slightly touch the strings repeatedly after each glissando. Apply the effect several times during each indicated occurrence. The effect will create a variety of effects (harmonics, slight crescendi, etc.) and it will vary from piano to piano and performer to performer. It is important that strong finger pressure is used with all the glissandi to create a maximum displacement of the string vibrations (#3) which is needed to generate this effect."
Listen to "Room 857" by Michael Coleman
In 1997, The Birmingham News referred to it as an "eerie effect" in a positive review of a Coleman live performance. The review also said "the effect clearly astonished" much of the audience.
You can imagine what it would do to a security guard in a dark building late at night.
"I was just experimenting with ideas and having fun trying to mess with the security guards,'' Coleman said.
Coleman is an internationally recognized and celebrated musical artist whose compositions and performances have garnered him numerous awards and acclaim.
In December 2021, Coleman's "Room 857" was awarded second prize in the "She Lives Budapest Prize" Composition Competition. In 2020, Coleman was a finalist for the American Prize in Instrumental Chamber Music.
After graduating from Fairhope High School in 1973, Coleman attended the University of South Alabama where he earned his undergraduate degree in music theory, then went on to the University of New Orleans to attend graduate school. He earned his doctorate degree at the University of Maryland, studying under composer Lawrence Morris, whom Coleman still calls a friend today. (He also remains friends with UNO instructor/composer Jerry Sieg and has performed with both men at various festivals and concerts).
Coleman's students said his accolades are well-deserved.
"His knowledge of theory and composition is honestly unmatched,'' said former student Jermel Kidd, now a piano student at the University of West Florida.
"He's not an easy instructor by any means, but he's able to break down very difficult theory concepts to where anyone could understand it. Dr. Coleman is very special to me and all of his students at PSC."