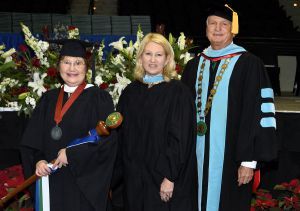 Published: 04-28-2021
Troy Moon, Pensacola State College
After she retires at the end of June, Susan Morgan has a few things to do. But no real plans.
She enjoys yard work, so she'll be out trimming, cutting and planting a bit. She'll do some traveling to see family and friends. She'll do some reading.
But for the most part, she's just not sure yet.
She remembers a discussion with former Pensacola State College President Charles Atwell years ago. Atwell was telling her about another former president's many hobbies and pursuits. But Atwell admitted to Morgan he had few.
"He put everything into his job at the College," Morgan said. "I think I did a lot of that too. I'm going to have to find something to do so I don't get bored."
Morgan has been the Pensacola State Humanities and Social Sciences department head since 2006, joining the College as a history instructor in 1989. Her last day of work is June 30.
"I will miss my colleagues very much," said Morgan, who was inducted into the PSC Academy of Teaching Excellence in 1996. "I'll miss the faculty and staff and the students and all the people I talk to every day. Everyone (in the department) is so close and supportive of each other."
She's been a mentor, sounding board and friend to those in her department.
"We could not ask for a better department head than Susan Morgan," said Spanish instructor Amber Carey.
"She recognized potential in many of us when we didn't see it in ourselves. Susan's door is always open to us anytime and her mentorship has guided us into becoming our best professional selves. She will be dearly missed, and her tiny shoes will be hard to fill."
Others in her department agreed.
"I've known Susan long before she was our department head," said PSC History professor Brian Rucker. "She is conscientious, professional, strives to help everyone in the department and works with students to make sure they are on the right path. She is a great sounding board, provides support and is a cheerleader for the entire department. I am fortunate to call her both a boss and a friend."
Morgan, a Georgia native, is married to retired U.S. Marine Gunnery Sgt. Norm Morgan. The couple has two daughters and nine grandchildren.
Her interest in history stems from her still-ongoing interest with current events.
"Then in College, I had to decide whether to teach history or go to law school," she said. "I always wanted to teach school, so I just went with that and loved it."
She taught until 2006 when she became department head. It was a promotion, but it lost her some cool points with her grandchildren.
"When they were younger, I told them about my new position and they just looked at me funny," she said. "They said 'You're not teaching anymore?' I told them 'No, but I'm helping other teachers now.' Their self-esteem for me had just gone down." (Don't worry. It went up again. One grandchild even lives with Norm and Susan Morgan and attends Pensacola State College.)
Her highlights during her three decades-plus at PSC include her induction into the Academy of Teaching Excellence and her role as grand marshal of the 2018 Fall Commencement ceremony, a role often reserved for retiring staff and faculty.
"I had all these people asking me if I was retiring then," Morgan said. "Everyone thought I was retiring."
No, retirement was three years away. Now, just two months.
"I have loved being at Pensacola State College," Morgan said. "I got hired on Aug. 16, 1989. It was my birthday. It was a great birthday present for sure."
PHOTO: As Grand Marshal of the 2018 Fall Commencement ceremony, Susan Morgan, left, poses with former Florida Department of Education Commissioner Pam Stewart and PSC President Ed Meadows.