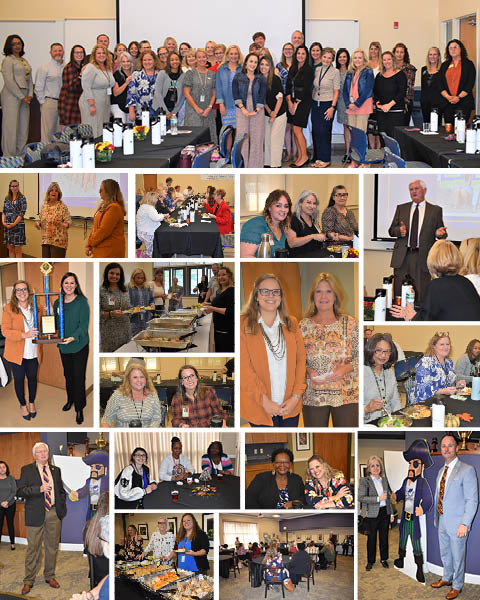 Of the dozens of Santa Rosa School District high school counselors who visited the Pensacola State College South Santa Rosa Center on Tuesday, Nov. 8, only a few had been on the campus.
But by the time they left, the counselors and school administrators knew plenty about not only the South Santa Rosa Center off Gulf Breeze Parkway, but all that PSC has to offer students.
The Santa Rosa County Counselors Appreciation Luncheon gave the counselors and administrators in attendance a chance to learn more about the College's  mission, programs and how the institute can help their students.
PSC hosted a second luncheon for Escambia County counselors on Thursday, Nov. 10, in the Molly McGuire Dining Room on the Pensacola campus.
"How many of you have been on this campus?" asked Jon Stephenson, PSC Associate Vice President of Student Affairs. Only a few hands were raised.
"That's one of the reasons we wanted you to come out. We wanted you to see this campus and see what we have to offer."
PSC administrators from recruiting, admissions, financial aid and more spoke to the group, as did PSC President Ed Meadows.
"We have a lot of dual enrollment students (from Santa Rosa schools),'' Meadows said in his welcome to the group, where he stressed PSC's commitment to education and the community. "A lot of good things are happening at Pensacola State College."
The luncheons were catered by Nancy's Catering in Pensacola and featured baked chicken, shrimp and grits, sautéed vegetables and potatoes.
"A lot of our students are dual enrollment students,'' said Navarre High counselor Carol Warner. "It (Pensacola State) is a good choice for some of our students after high school because it is close and less expensive than a larger university would be."
Jay High assistant principal Kevin Jordan has watched his stepson, Kameron, and stepdaughter, Ansley, both graduate from PJC – Kameron with a Bachelor of Applied Science in Cybersecurity degree.
"PSC was really good for them. They both finished debt-free which is great,'' Jordan said. "Anytime you can go to college and earn an education and come out debt-free, that's a positive."