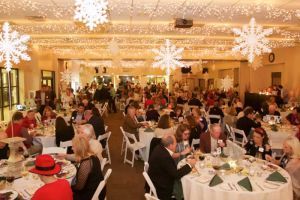 Published: 11-08-2016
Take a star-sprinkled campus, add plenty of students and high-tech equipment, mix in some learning and laughter, then top it off with festive food and seasonal songs.
Pensacola State College's recipe for a unique way to celebrate the season is open to the public at the second annual Holiday Experience at 5:30 p.m., Tuesday, Dec. 6 on the Pensacola campus.
Like any great adventure, the evening begins with books – and cheers – at the Edward M. Chadbourne Library, Building 20.
Next, guests board the PSC Holiday Express for a warm ride to the college's Manufacturing Technology labs. There, they will be treated to a hands-on introduction to the workforce of the future as students demonstrate cutting-edge skills with the 3-D printers, mechanical design machines, and virtual welding mobile center as well as give tours of the trendy Tiny House.
Last stop for the Holiday Express brings guests to the G. Thomas Delaino Student Center for a sumptuous supper prepared by students in the Culinary and Hospitality program and served in an old-fashioned holiday setting with trees, toys and caroling with the PSC Concert Chorale.
Dress is casually festive and cost for the evening is $100 each. For reservations, contact the PSC Foundation at 850-484-1560 or foundation@pensacolastate.edu.
Proceeds from this event benefit the college's Fund for Excellence program that provides support for programs, scholarships and matching funds for grants.
Opportunities to support Pensacola State College students are available at http://foundation.pensacolastate.edu/holiday-experience/.