Published: 09-30-2022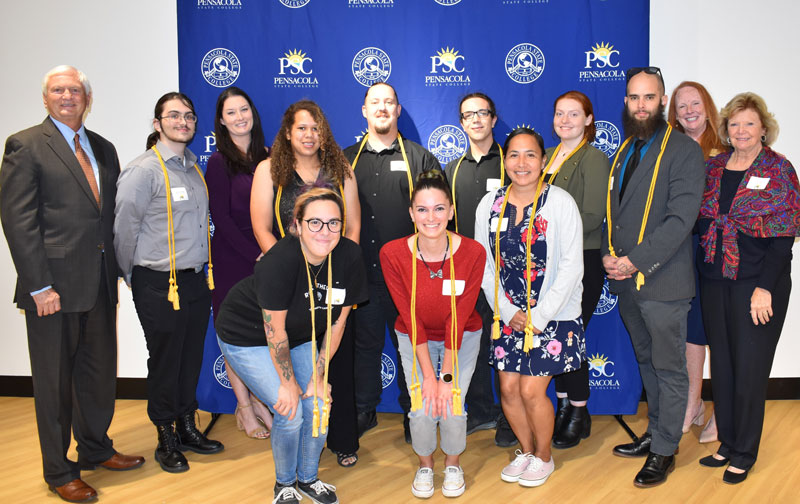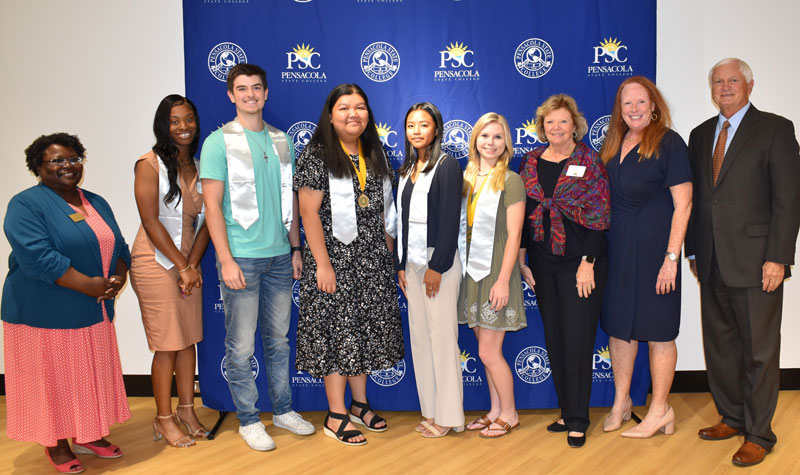 Cera Boyle arrived just moments before the ceremony was set to start – an event where she was one of the honorees.
But Boyle, a first-generation college student studying pre-med at Pensacola State College, has a lot on her plate.
The mother of three had to drop her oldest son off at choir practice before arriving at the event to recognize the College's most-accomplished students – Presidential Scholars, Student Ambassadors and Robinson Honors Program officers.
The event was held Thursday, Sept. 30, in the Charles W. Lamar Studio in the Anna Lamar Switzer Center for Visual Arts.
Boyle, whose husband serves in the U.S. Marine Corps, is the secretary for the Robinson Honors Program.
"She's amazing,'' said Amber Carey, Robinson Honors Program coordinator. "Our whole group is pretty awesome. They all come from different backgrounds and bring a lot of varied talent to the group."
Members of the Robinson Honors Program must maintain a 3.25 grade point average and fulfill other requirements such as completing a certain number of honors courses.
But the Robinson Honors Program officers were just some of those recognized.  Presidential Scholars – selected by PSC President Ed Meadows – and incoming Student Ambassadors, receive scholarships for their achievements and service to the College.
"You are the best of the best,'' said Margie Moore, PSC Board of Trustees member. "You, our Presidential Scholars, our Robinson Honors Program students and our Student Ambassadors, are the best of the best. You represent PSC on our campus and in our community. You make a difference."
The Presidential Scholarship is a two-year, full-tuition and textbook award. Recipients must be an incoming freshman or dual-enrolled student and must have a minimum high school grade point average of 3.25.
Student Ambassadors are selected based on recommendation letters, academic achievement, demonstration of leadership abilities and community service. They also must be a graduate of Escambia County, Santa Rosa County or Baldwin County, Alabama, high school. Students must have applied and been admitted to Pensacola State, with a commitment to attend the fall, spring and summer terms.
This year, there were two Presidential Scholars – Bea Louisa Sambillon and Taylor Baggett, who are also new Student Ambassadors.
The other incoming PSC Student Ambassadors:
Kaleigh Anne Villanueva
Christina Hunter
Julie Olmedo
PSC Robinson Honors Program officers:
Hannah Mooers, President
John McLeod, Executive Vice President
Damien Cruikshank, Vice President of Professional Development
Jackson Clyde, Vice President of Service
Ivy Crosby, Vice President of Social Activities
Richard Owens, Vice President of Public Relations
Emily Miller, Historian
Cera Boyle, Secretary
Lisa Marshall Velez, Treasurer
"You are all very accomplished, but not just in the academic area,'' Meadows said. "You are involved in your community and in school life and activity. We're very proud of you."