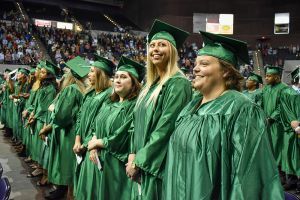 Published: 12-17-2019
By Troy Moon, Pensacola State College
As the traditional "Pomp and Circumstance" filled the Pensacola Bay Center, hundreds of Pensacola State College students marched through the arena in their graduation robes and waved to and blew kisses at loved ones who were screaming their names from the rafters.
Because a college degree is worth screaming about.
More than 1,000 students received their degrees and certificates during Fall semester, including 120 students who earned baccalaureate degrees, which PSC first began offering in 2010.
"I wanted to stay at PSC (after earning an associate degree) because I enjoyed my classes and the instructors were great," said Air Force veteran Christy Coffman, who earned a baccalaureate degree in business administration. "And PSC is a lot more affordable than other schools."
She said her degree will assist her in her work as a contractor.
"It's going to help me advance in management and climb the ladder. I worked fulltime while going to school, so it's been trying. But it's definitely worth it."
Commencement Grand Marshal Wilma Duncans-Burnett, a professor in the Allied Health department, led the graduates into the arena and their seats. She carried the ceremonial PSC mace which features the college seal.
Many graduates decorated their caps with Christmas lights, messages of praise, and some with messages of relief. One graduate had the word "Finally" emblazoned on her cap; another's cap read "Mission Accomplished."
"I know they're proud and they should be," Duncans-Burnett said. "I earned my first degree in 1974 and it's just an awesome start for life. And many of them can go right to work."
Dr. E. Gaylon McCollough of the McCollough Institute for Appearance and Health delivered the commencement address, regaling the students with anecdotes about his time at the University of Alabama, where he was a start football player and member of legendary coach Paul "Bear" Bryant's 1964 National Championship team. But he also told students that his journey to success was hard earned, and began with a strong work ethic that had him picking cotton, mule plowing, delivering newspapers and other odd jobs as a boy.
And he shared with students a story of living frugally after college with his wife, Susan McCollough, who is also a University of Alabama graduate.
"We would drive less expensive cars and forego fancy vacations and we ate at home instead of dining out," McCollough said. "We lived within our means and often below our means and saved every penny possible."
He gave the graduates a bit of advice too: "Keep debt at a bare minimum." (PSC students are already on the right track, having chosen the college that U.S. World & News Report says leaves graduates with less student debt than any college or university in the United States.)
Army veterans Robert Losey earned his baccalaureate healthcare management after shattering his ankle and being medically discharged after a training accident. He said the transition from soldier to student was "tough."
"You're used to this structured lifestyle and then when you get out, it's like chaos," Losey said. "PSC really helped me get into a new routine and structure. I'm just grateful I could stay at PSC and not have to transfer to earn my bachelor's degree. PSC is a great school."
To view the 2019 PSC Fall Commencement Ceremony in its entirety, go to Pensacola State College's website or Facebook page.