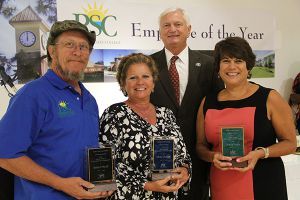 Published: 08-08-2017
Unsung hero… Outstanding work ethics… Huge heart for students…
These were just a few of the comments describing Pensacola State College's three Employees of the Year – Mary Graves, Diana Taylor and Scott Russell – at a festive ceremony in the new Charles W. Lamar Studio Gallery, July 25.
Colleagues, friends and family filled the Studio's spacious lecture hall as PSC President Ed Meadows called attention to the accomplishments of each honoree and the importance of the annual event that began in 1975.
"CAEOP began this awards ceremony and it has been an anticipated event for more than 40 years. When CAEOP could no longer host the ceremony, it was just too important to let it drop," Dr. Meadows said. "We are grateful that our Human Resources department is continuing this tradition."
The Administrative Award went to Mary Graves, senior computer systems analyst, who joined the Information Technology Services department in 1993.
In presenting the award, Dr. Meadows shared comments about her expertise and helpfulness from Debbie Douma and Michael Johnston who nominated her:
"Mary has been the 'unsung hero' in the background working through our data, making sure what is reported is accurate. She is very proactive; able to gather, organize and share necessary data that is essential to our workplace. She has never responded to a data request with the words, 'can't be done.'"
Career Service Awards were presented to Diana Taylor, accounting specialist, and Scott Russell, maintenance specialist.
Although Taylor has been in the Cashier's Office just since January 2016, Dr. Meadows said that her knowledge and positive influence were evident in Dawn LeNoir's nomination letter:
"Beyond being outgoing, friendly and very welcoming, Diana knew her subject well and was able to explain PSC procedures in such a clear and concise manner. I witnessed firsthand her outstanding work ethics and habits. Every minute of every day, she gave her absolute best – not just to me but to every other person in the office and to every person she made contact with."
Whether the task is small or large – replacing a light bulb or repairing the air conditioning on a blistering hot day – Dr. Meadows pointed out that Scott Russell's skill and ready smile for the past decade have not gone unnoticed by his nominator, Greg Oliver:
"Scott is on call for the college and comes out to fix things late at night and on weekends. Sometimes it uses up most or all of the weekend but he is very loyal to the college. He also has a huge heart for students. He is very patient and helps several students in the PALS Program do tasks that build their confidence and self-esteem. He goes out of his way to help everyone."
Following the awards presentation, there were plenty of photos, laughter, hugs and refreshments, along with more shared memories and praises for the three honorees.
Coordinating the event were Human Resources Director Tammy Henderson and staff members Erandi Sanchez-Perez and Dykieria Stevens.