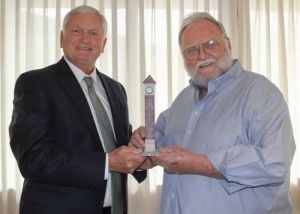 Published: 05-12-2016
Pensacola State College recently recognized 70 employees at the Annual Service Awards Ceremony.
Visual Arts Professor Bill Clover was honored with a video tribute and a replica of the college's M.J. Menge Bell Tower in celebration of his 50 years of service. Clover also shared memories of his first day teaching at then Pensacola Junior College in 1966. He is the longest serving faculty member in the college's 68-year history.
Employees who have been at the college for 25 years were recognized as PSC Legends and received a pin and Legends certificate. Honorees were Tonie Anderson, Bill Hamilton, Greg Ledet, John Noski, Jennifer Ponson, Charles Schuler, Linda Sheppard, Charlotte Sweeney and Jeffery Wooters.
Additional service recognition included:
• 35 years: Dawn Loyed, Wanda Osborne, Mary Scott.
• 30 years: Marilyn Coseo, Sarah Dowdy, Rose Hall, Darene Harris, Mindy Jay, Yin Lemley.
• 20 years: Jamie Beck, Joan Burkhardt, Neil Clark, Sheran Noles, Paul Owens, Narla Zinermon.
• 15 years: Larry Ball, Butch Branch, Liesa Bromet, Peter Falzone, James Hightower, Tanesha McCreary, Debra Mowery, Todd Neuman, Patricia Owens, Taryne Parker, Kelly Ryan, James Wilburn, Monica Williams.
• 10 years: Gregory Bloxom, Jennifer Brahier, LaRita Brigham, Cammie Buchanan, Rachelle Burns, Kimberly Calloway, Janice Gregorowicz, Michael Hayse, Michelle Horton, Wavolene Kelly, Summer Kreiser, Sarah Lewis, Jessica Petersen, Juanita Scott, Janie Stewart, Rodney Whatley.
• 5 years: Diane Bracken, Glenn Carter, Matthew Drum, Thomas Gilliam, Kay Hanson, Roberta Harvey, Pamela Johnston, Christopher Laird, Matthew Lambert, Linda Lewandowski, Jennifer Moore, Jamie Russell, Tina Simpson, Sara Smith, Melanie Whitehouse, Sara Wilson.
The celebration included hors d'oeuvres and music provided by the Performing Arts Department.
For more information, call PSC Marketing Director Sheila Nichols at 850-484-1428.
FacebookTwitterGoogle+