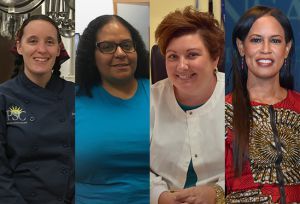 Published: 03-25-2021
Troy Moon, Pensacola State College
They received a rose and a card of appreciation – and both mean so much to the 22 Pensacola State College female faculty members, advisors and employees who were selected by students and colleagues as inspirational figures and role models.
The initiative to honor the women – Women Making History at PSC ─ is part of Women's History Month observances of the PSC Black History/Multicultural Committee,
Celebrated annually in March, Women's History Month is a celebration of women's contributions to history, culture and society and has been observed in the United States since 1987.
"During Women's History Month, we as a nation always recognize well-known activists and politicians and other high-profile women," said Toni Anderson-Steele, chairwoman of the PSC Black History/Multicultural Committee. "But this is a way for us to honor our own colleagues who inspire their students and colleagues."
An email was sent out to students and employees through Student Activities, soliciting nominations for the recognition. Then PSC instructor Amber Carey, a member of the Black History/Multicultural Committee and the group's chairwoman for Women's History Month, made cards for each of the women chosen. Carey also delivered roses and the cards to all the women. (Carey and Anderson-Steele were both nominated for the recognition.)
This is the second year the Black History/Multicultural Committee has recognized Women Making History at the College.
"It was truly unexpected," said Evelyn Gant, MIS Computer Systems Analyst and adjunct instructor, one of the women chosen for the recognition. "You know you're making an impact, whether they tell you or not. It's an affirmation that you're reaching the students."
Along with Anderson-Steel, Carey and Gant, other honorees include:
• Cindy Kirk
• Britney Clark
• Jenica Harris
• Carla Williams
• Kathy Ireland
• Iris Knoebl
• Rameca Leary
• Natasha Simpson-Robinson
• Paige Anderson
• Marisa Mills
• Joni Verlin
• Lois Hurd
• Debby Meyer
• Sonya McCall-Strehlow
• Paula Ingram
• Barry Holbert
• Sarah Meyer-Paterson
• Susan Morgan
• Kerriyan Harper
Verlin, a PSC culinary instructor, said the recognition was "a pleasant surprise."
"We spent a lot of time with our students and we really focus on them, but sometimes you wonder 'Did I really make a difference? Did I really impact their lives,' " Verlin added. "Then, when they nominate you for something like this, you know you did make a difference."
Simpson-Robinson, PSC Paralegal/Legal Studies professor, practiced law for several years before deciding she would rather teach.
"I am passionate about my job as an educator," Simpson-Robinson said. "It is my true calling. It gives me an opportunity to learn from my students as much as they learn from me. One of my proudest moments is having my students debate with me using a concept I taught them."
PHOTO: Four of the 22 PSC female faculty members, advisers and employees honored as role models during the Women Making History at PSC initiative (left to right): Joni Verlin, Evelyn Gant, Sarah Meyer-Paterson, Rameca Leary.