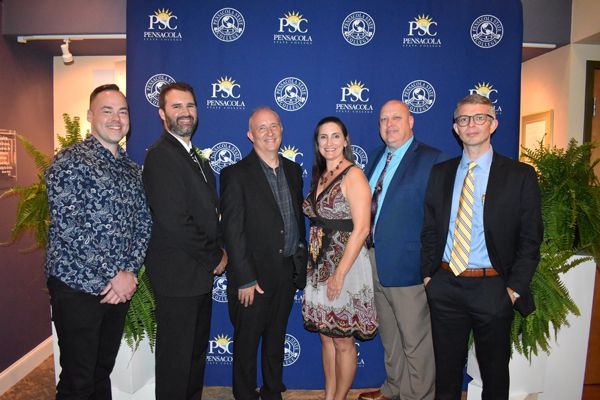 By Troy Moon
Pensacola State College
Six of Pensacola State College's best educators were treated like rock stars at a dinner in their honor on Tuesday, April 5.
They were feted and toasted, and their achievements celebrated at the Academy of Teaching Excellence dinner in the Molly McGuire Culinary Arts Dining Room on the Pensacola campus.
Five instructors were inducted into the 2022 PSC Academy of Teaching Excellence:
David Alexander – Adult Education
Dr. Stephen Gottschalk – Natural Sciences
Dr. Alex Ledgerwood – English and Communications
Lauren Rogers – Natural Sciences
Dr. Brian Ward – Business
Also, Humanities and Social Sciences instructor Robert Thead was named Outstanding New Faculty Member.
PSC President Ed Meadows noted the challenges of teaching through COVID-19 in his toast to the faculty members:
"This is a toast to all our faculty who had to relate to students in a different way these past two years. This is a toast to turning all the challenges – past, present and future – into what makes you teachers of excellence."
The PSC Academy of Teaching Excellence began in 1986. Nearly 200 former and current instructors have been inducted into the Academy of Teaching Excellence. The selection process begins with student nominations, which the teachers noted makes the honor even more special.
"To be honored by the students knowing they're going out to amazing fields right now is very rewarding,'' said Gottschalk, who has taught at PSC for 11 years. "They're going into hotbed fields like nursing and physical therapy. We're teaching them in a time of COVID where we see the medicine literally help change the world and the policies of the world. It's amazing."
"My students are compassionate, hard-working and intelligent,'' said Ledgerwood, who has been teaching at PSC since fall 2018. "They challenge me each day to bring my best to the classroom."
Rogers, in her fifth year at PSC, was previously named Outstanding New Faculty Member.
She said she is motivated by inspiring a love of – or at least appreciation of – astronomy to her students, whether they are science majors or not.
"I teach students who are not science majors and a lot of them come in with a terrible fear of all things math and science,'' she said. "I think my enthusiasm about the subject helps them to be excited and interested and want to learn more."