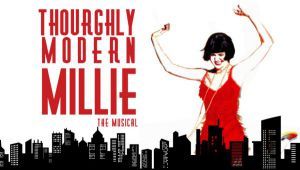 Published: 05-30-2017
Pensacola State College invites area high school thespians to audition for the 2017 Summer High School Onstage Workshop (SHOW) production of the musical comedy, "Thoroughly Modern Millie."
SHOW is open to students who will be in grades 9-12 in the 2017-2018 school year, as well as recent graduates. It provides theatre opportunities in all aspects of production – onstage and behind the scenes.
Auditions for the musical begin at 8 a.m., Monday and Tuesday, June 5 through 6, at the Ashmore Fine Arts Auditorium, Building 8, on the Pensacola campus.
Auditions include singing and dancing. Students should bring sheet music or accompanying music and wear comfortable clothing and shoes – no sandals, flip-flops, heels, etc. Auditions are used for casting roles but everyone who joins SHOW will participate.
It's 1922 and small-town Millie Dillmount comes to New York City to marry for money instead of love. She delights in the flapper lifestyle until problems arise and hilarious chaos takes over. The original production opened on Broadway in 2002 and subsequently won six Tony Awards, including Best Musical.
"Thoroughly Modern Millie" runs July 21 through 23 and July 28 through 30 at the Ashmore Fine Arts Auditorium.
The PSC theatre workshop has no tuition and all costumes, scripts, etc. are provided by PSC at no cost. Students may receive three college credit hours, depending on each student's school.
For more information, call PSC Theatre Director Rodney Whatley at 850-484-1807.