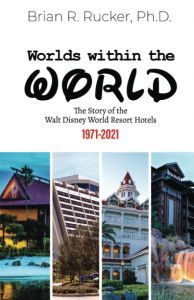 Published: 06-10-2021
Troy Moon, Pensacola State College
Brian Rucker first visited Walt Disney World in early 1972, just months after the Orlando theme park and entertainment kingdom opened in October 1971. He was just 11 years old and remembers the stay was far from glamorous.
"We stayed in Wildwood, which is about 55 miles away," said Rucker, now a Pensacola State College history professor. "It was horrible."
The hotel the family stayed in was near a truck stop near the Interstate.
"It was not the best experience."
The family went back to Walt Disney World in 1973 and did it right, staying at Disney's Polynesian Village Resort, one of the three original Disney Resorts along with Disney's Contemporary Resort and the now-closed Golf Resort.
"It was a whole new experience," Rucker said. "This was the way Disney was supposed to be done."
Rucker knows how Disney is supposed to be done.
His book "Worlds Within the World: The Story of the Walt Disney World Resort Hotels 1971-2021" was released in May and is the first comprehensive history of the on-site Disney resorts.
"The 50th anniversary of Walt Disney World is October 1 this year," Rucker said. "So, this is good timing."
While Walt Disney World began with just three resorts, it now has 36 different resort properties, each with its own theme and atmosphere. In total, the resorts offer more than 30,000 rooms.
"It's pure escapism and you can pick the adventure and experience you want," Rucker said. "You can have a Polynesian experience, a wilderness experience, an experience that recreates New Orleans and so much more. You choose your own experience and you stay on the Disney grounds and it's total immersion."
Rucker has visited Walt Disney World more than 30 times throughout his life and has stayed at a dozen of the Disney resorts, though he has visited all the resorts.
His favorite? It's still Disney's Polynesian Village Resort, in which he first stayed as a child.
"The food is great and it's always changing," Rucker said. "But all of the resorts have something unique to offer."
He said some people who have bad experiences at Disney World often don't plan their trips efficiently.
"Some people might think there's nothing but rides and standing in long lines," he said. "But there's so much more."
One time, Rucker and his wife made a trip to Disney World where they never visited any of the theme parks.
"We got room service and just relaxed and enjoyed the environment," he said. "I think a lot of adults might consider getting their lunch and dinner plans and reservations set and work their itinerary around the meals."
The key to a good Disney trip is research and planning, Rucker said.
"Do your research beforehand," he said. "There are so many options and so many things to do. But you need to plan it out to make it go smoothly."
His reason for writing the book…
"No one had ever done it before," Rucker said. "I wrote this book so I could read it."
"World Within the World: The Story of the Walt Disney World Resort Hotels 1971-2021" is published by Theme Park Press. It is available on Amazon. Rucker hopes the books will be in stores soon and plans on doing a few local book signings this fall.