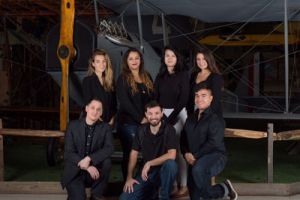 Published: 11-01-2017
Pensacola State College graphic design students are commemorating the 100th anniversary of United States involvement in World War I through their senior exhibit at the National Naval Aviation Museum, 1750 Radford Blvd., aboard Naval Air Station Pensacola through November.
The museum is free and open to the public 9 a.m. to 5 p.m. every day. The public is also invited to meet the artists at a reception at 10:30 a.m. Friday, Nov. 3, at the museum.
Walk through the trenches and explore the deep history of how our world shook, crumbled and evolved into what it is today. The groups' extensive research on the events and innovation that came from the Great War are reflected in the exhibit. It also showcases the students' creative interpretation of World War I through color, fabrication, typography and design.
Students featured in the show are Kelly Bestgen, Zachary Blessing, Lollie Campbell, Glenda Kimball, Bara'ah Jaraiseh, Shane Looney, Kyle Stamm and Alec Trimble.
These students will complete a Bachelor of Applied Science with a concentration in graphic design in December.
For more information, call Graphic Design Program Coordinator Mark Hopkins at 850-484-1087.