Published: 11-22-2022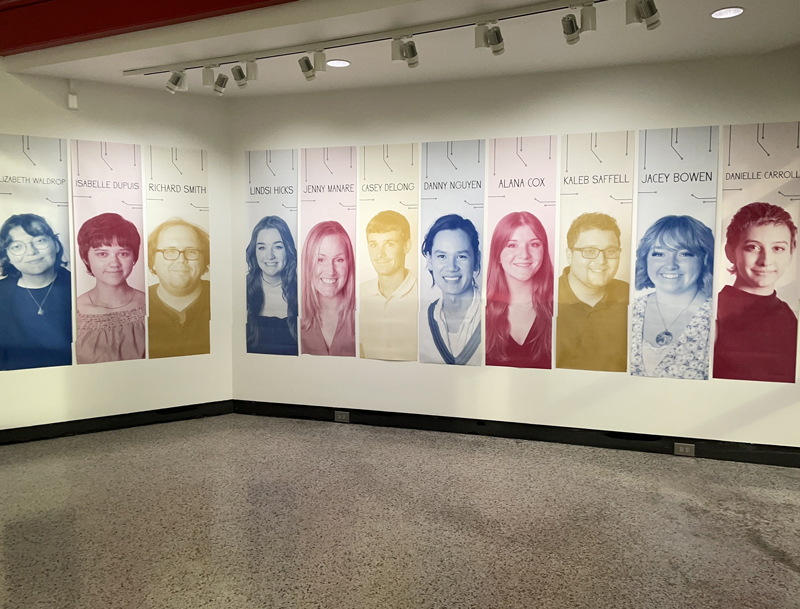 Mark Hopkins walked slowly through the Switzer Gallery taking in the exquisite design campaigns from 11 talented graphic design artists.
The exhibition is special to Hopkins, Pensacola State College graphic design instructor. The artists are his students and the exhibition is the culmination and sparkling evidence of all they have learned at PSC.
The 2022 Dr. Marjan Mazza Bachelor of Applied Science in Business and Management – Graphic Design Senior Exhibition "How Design Makes Us Think, Feel, and Do Things" is on display through Dec. 9 at the Switzer Gallery at the Anna Lamar Switzer Center for Visual Arts on the Pensacola campus. The Opening Reception for the exhibition is from 5 p.m. to 7 p.m. on Thursday, Dec. 1.
"I see all this work and I think back to CG1 (Computer Graphics 1),'' Hopkins said. "They were learning to use the software and from there it was just continued progress. Even in the beginning classes, I would talk about this show and ask them 'What are you going to do between now and the time you graduate?' "
The answer is visually represented in the Switzer Gallery where the 11 students have crafted alluring marketing campaigns for nonexistent companies. The students have created marketing brands complete with logos, posters and numerous facets designed to attract the eye.
"I'm super proud but it's the students who deserve all the credit,'' Hopkins said. "There's no doubt that this is the kind of work that will get these students hired."
The 11 students represented in the 2022 Dr. Marjan Mazza Bachelor of Applied Science in Business and Management – Graphic Design Senior Exhibition "How Design Makes Us Think, Feel and Do Things":
Jacey Bowen
Danielle Carroll
Alana Cox
Casey Delong
Isabelle Dupuis
Lindsi Hicks
Jenny Manare
Danny Nguyen
Kaleb Saffell
Richard Smith
Elizabeth Waldrop