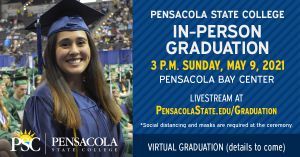 Published: 04-28-2021
There will also be an online virtual ceremony for those who will not attend live ceremony
Troy Moon, Pensacola State College
More than 400 Pensacola State College students will become Pensacola State College graduates on May 9 during an in-person commencement ceremony at the Pensacola Bay Center.
Another 400 or so PSC students will graduate during a virtual ceremony to be broadcast within days of the in-person ceremony.
Students were given in-person and virtual options for graduation because of the ongoing concern about COVID-19.
"We're going to have a live ceremony, but we're also having a virtual graduation ceremony for those who can't or don't wish to attend in person," said PSC President Ed Meadows. "This allows everyone who wishes to have some commencement experience to do so."
The in-person graduation ceremony takes place at 3 p.m. May 9 at the Bay Center. It also will be livestreamed.
"The livestream is important for graduates who have family that can't attend," said Anita Spicer, PSC event coordinator. "Some family members might not be able to attend, but the livestream will allow them to see the entire ceremony."
Graduates who attend the in-person ceremony can invite six guests because of COVID-19 safety protocols.
All attendees must wear face masks and follow social distancing guidelines. There will be no handshakes to graduates during the ceremony and there will be no graduate processional to begin the ceremony. Graduates are asked to sign in and go directly to their seats, which will be socially distanced. Graduates and guests are asked not to congregate and to go directly to their vehicles after the event.
The virtual ceremony will include many of the same features as the live ceremony. Graduates names will be read and their pictures – if they have submitted one – will be shown on the screen. The virtual ceremony also will include taped segments from various administrators and staff members offering congratulations to the graduates.
Graduation speaker Gordon Sprague will offer a taped address for the virtual ceremony that will closely mirror the address he presents at the live ceremony.
Sprague, known to friends as "Flash Gordon," is a businessman, philanthropist, U.S. Air Force veteran and former race car driver. He is a member of the PSC Foundation Board of Governors and is the chairman of the College's "Your Community Your Legacy" comprehensive campaign.
Those who attend the in-person ceremony, including guests and graduates, will be required to go through security screening before entering the Bay Center. Bags of any kind are discouraged.
The graduation ceremony will recognize students who completed their course work – or will complete ─ in Fall 2020, Spring 2021 and Summer 2021. The traditional Fall commencement ceremony that normally takes place in December was canceled in 2020 because of a local spike in COVID-19 cases.
Meadows knows that the commencement ceremonies are important to students.
"Not many times in the life of an individual are they recognized for academic achievement," Meadows said. "Now they will have an opportunity to be recognized for their accomplishments in front of friends, family and loved ones. It's a significant milestone in life."
For more graduation information, go to pensacolastate.edu/graduation.