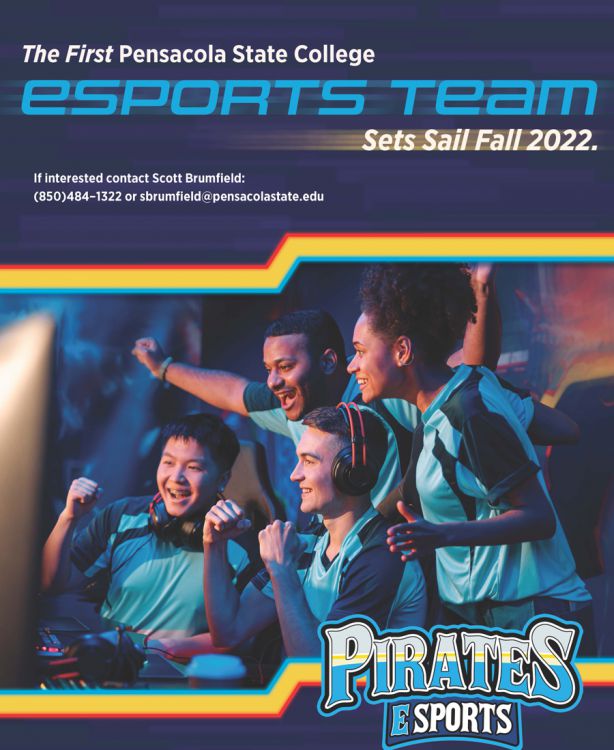 Pensacola State College is bringing a little old-school fun and a little new-school pizazz to the Pensacola campus this fall.
The inaugural PSC Pirates esports team will start competition in October and has already signed two student players with more expected to join in the coming weeks.
Also coming this fall is the PSC game room, which will have a pool table, air hockey, arcade games and foosball. The game room will be in the PSC Delaino Student Center – Building 5 and located in the large room that was formerly Academic Advising. A rear portion of the room is being remodeled to be the PSC esports arena where the esports team will compete.
And while PSC is starting an esports team that will compete under NJCAA Esports governance, the College will also start an esports club open to all students, faculty and alumni.
Incoming freshman Josiah Gadia is one of the first two Pirates to join the Pirates' esports squad, along with freshman Nick Salazar.
"It shows that the College is interested in what we're interested in,'' said Gadia, who will study graphic design. "It creates more options and opportunities for students and that's what college is all about."
PSC doesn't offer scholarships for esports, but that hasn't lessened enthusiasm.
"I was surprised and excited to see PSC offers esports,'' said Salazar, a general studies student who hopes to someday become a game designer. "It's a good way for students to connect and find people who share the same passions."
Games approved for NJCAAE play are:
Super Mario Bros. Ultimate
Fifa 22
Hearthstone
NBA 2k22
Madden 22
Overwatch
Rainbow 6: Siege
Call of Duty: Cold War – Gunfight
Call of Duty: Warzone
Call of Duty: Vanguard
Rocket League
Valorant
Some games are single-player games, while other games can have up to six players on a team. PSC esports coordinator Scott Brumfield said it the first year of competition, PSC will probably just compete in three games.
The PSC esports arena will have both console stations and PC stations, said Scott Brumfield, PSC esports coordinator.
"It's one of the largest-growing activities among colleges,'' Brumfield said. "For PSC, it's just another opportunity and activity we can offer to students."
More than 125 two-year U.S. colleges have an esports team.
"We're a two-year college, but we'll be playing two-year schools and four-year schools,'' said Jon Stephenson, PSC Associate Vice President of Student Affairs. "A great aspect of this is we can play anyone. We can play a school in Hawaii and still be in Pensacola. It gives students a chance to be part of a college team who might not have had that opportunity without esports."
If you're interested in being a member of the PSC esports team or club, contact Scott Brumfield at 850-484-1322 or sbrumfield@pensacolastate.edu.