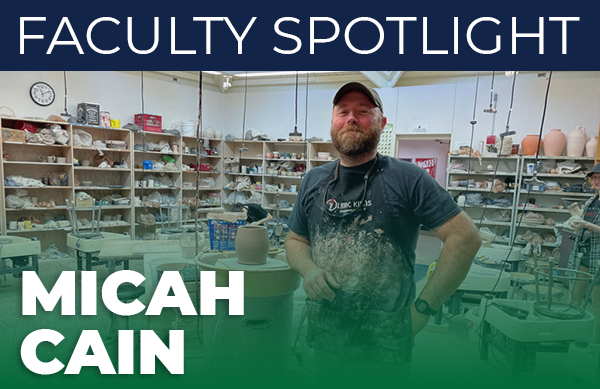 By Troy Moon
Pensacola State College
The crumbs and remnants of Micah Cain's work and toil are caked across his apron, and often, on his well-worn jeans and t-shirt.
Cain is Pensacola State College's ceramics instructor, coming to the College in fall 2019.
He teaches Ceramics I and Ceramics II to students ranging from art to business majors who want a cool elective and to learn an awesome skill. And even if Cain wasn't deep in the clay with students, he'd most likely still be going home each day with soil, clay and maybe mud coating his skin.
"I like being outdoors,'' said Cain, a Georgia native. "I've always enjoyed being outdoors. I like to fish and lived in North Carolina. I got into trout fishing and fished streams. Here, fishery is a completely different thing."
He also likes metal detecting, and, of course, working with clay.
In high school, Cain planned on perhaps becoming a game warden, but found out he had some talent throwing clay on the small wheel in art class. He was encouraged by his teacher and parents to pursue ceramics and pottery, and in 2003 traveled to Japan as part of a University of Georgia five-week "Study Abroad" program. There, Cain received an intensive study of Japanese culture and ceramics.
"The whole Japanese style is looser and more organic,'' he said. "There is more emphasis on the handmade aspect and there's an appreciation of irregularity, which is often more revered than symmetry and machine pieces."
Cain earned his Bachelor of Fine Arts from Shorter College in Rome, Georgia, in 2003 and his Master of Fine Arts from Georgia State University in Atlanta in 2008.
He taught at Georgia State University and, before coming to PSC, he was an assistant professor of art at Shorter University.
In his "Statement of Teaching Philosophy" on his website www.micahcainceramics.com, he writes "I am passionate about my craft and enjoy displaying my passion through instruction. For me, the teacher-student relationship is reciprocal. I am inspired and informed by my students' creativity, ingenuity, and passion. I believe I serve not only as an instructor and advisor, but as a mentor, too. It is important for students to see me research, create, and exhibit my own work outside of the classroom. I approach my work with a strong work ethic and dedication to my craft and demonstrate each of these qualities to my students. My excitement for teaching is continually renewed by the work I create.  As I investigate new inspiration and technique, I discover new methods of working and develop new approaches to instruction. By demonstrating the qualities, I highly value and using my own work to inform my teaching, I help lead my students to becoming mature, articulate artists."
Clover replaced PSC legend, instructor Bill Clover, who taught at the College from 1966 until his death in May 2018. He was PSC's longest-serving faculty member spending nearly 52 years at the College.
"I really love Pensacola and working in his (Visual Arts) department,'' Cain said. "At the school I was at before, it was good, but it was small. But to be part of something so large with everyone in the faculty being as talented as they are and to have the facilities, we have is amazing."
Cain said he researched Pensacola State and learned of Clover's legacy. He said he's not intimidated by that legacy, even though, he said, "people are quick to remind me about him. How much I look like him or way he did things." (He's right. Someone here in the PSC Marketing Department commented on how he resembled a young Clover.)
"I didn't want to come in and make a regime change and say, 'This is my way of doing things,''' he said. "I wanted to ease in and get a sense of how everyone works and the different personalities. If it's not broken – which it is not – I wasn't going to try to fix it. I just wanted to slowly implement some things and change some things if needed."
Cain and his wife live, Kelli, live in Navy Point near Bayou Grande, where Cain does most of his fishing. He has an adult daughter, Leila Cain, who lives in Vermont. He also plays banjo – or at least did.
"I haven't played in a while,'' he said. "At least since I moved to Pensacola."