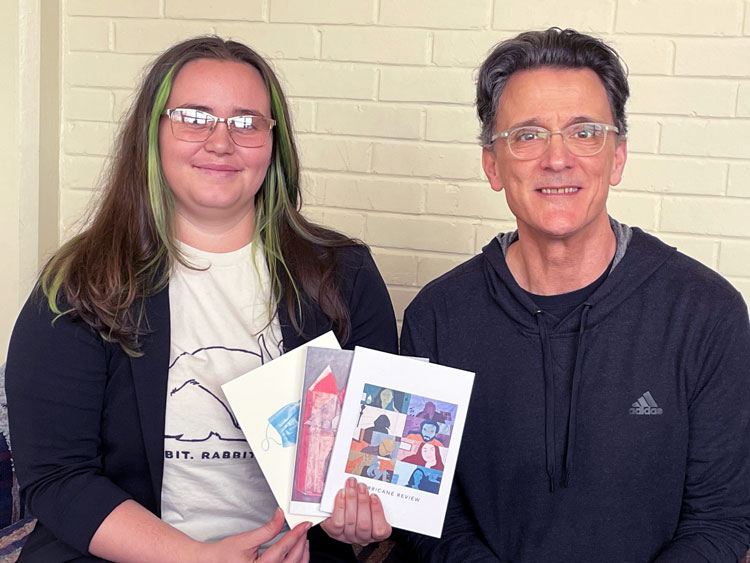 If you know contemporary poetry, then you'll recognize some of the writers in the 2023 literary anthology "Hurricane Review."
An annual publication of the Pensacola State College English and Communications Department, the 20th edition of the "Hurricane Review" features 26 local, national and international writers whose works were chosen from numerous submissions.
Noted poet CA Conrad, who was the subject of the 2015 documentary film, "The Book of Conrad,'' is a celebrated poet/playwright who has read at shows across the country and Europe. Conrad is one of the artists featured in the publication, which can be obtained for free from the English and Communications Department.
PSC English professor Jamey Jones, Faculty Editor for the "Hurricane Review," called Conrad "a rock star" in the poetry world.  (Conrad also will have a reading on Thursday, April 13, in the PSC Hagler Auditorium on the Pensacola campus.
The reading is part of the College's long-running Lyceum arts series. For details, go to https://lyceum.pensacolastate.edu/.)
Jones called poet Sotere Torregian, who is also included in the book, "a legend from the '60s."
Three PSC students have pieces in the 2023 "Hurricane Review" edition – Micayla Mae, Rebekah Constance and Maeve Sims.
"It's an international journal and we have heavy hitters in any given one,'' said Jones, former West Florida Literary Federation Poet Laureate. "We've even had Pulitzer finalists before. We have some students in this one, but I always tell students to not get mad if they submit and don't get in. The standards are very high." (There is an all-student publication, "The Kilgore Review,'' published each year.)
There will be a book release celebration/reading event featuring some of the writers featured in the publication at 6 p.m. Feb. 21 in the Anna Lamar Switzer Center for Visual Arts on the Pensacola campus.
Jones is trying to get some of the writers who are not in Pensacola to participate via Zoom. The event won't just celebrate the 2023 "Hurricane Review,'' but the two previous editions since COVID-19 squashed any celebrations for those releases.
"Those releases were very lonely and quiet,'' Jones said. "Books should be celebrated."
PSC student Micala Mathews was the Book Design Editor. Other student editors on the project were:
Micayla O'Malley
Rebekah Constance
Maeve Sims
Seth Glenn
Aaustra Douglas
Marcella Chaffin
Veronica Lockamey
Jessika Spann.
"They get an amazing experience just editing,'' Jones said of the student editors. "They learn the value of proofreading and going through a piece of writing line by line." Mathews agreed.
"You're looking at everything – you're making sure the typography, spacing and margins are cohesive throughout,'' Mathews said. "You want to be thorough."
To receive a free copy of the 2023 "Hurricane Review,'' go to the PSC English and Communications Department, Building 4, Room 442 on the Pensacola campus or write to:
Hurricane Review
Pensacola State College
English and Communications Department
1000 College Blvd.
Pensacola, Florida 32504