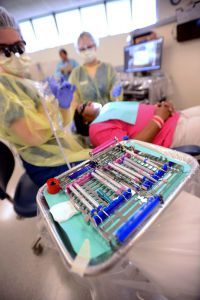 Published: 09-07-2016
The Dental Hygiene Clinic at Pensacola State College's Warrington campus offers low cost, preventive dental hygiene services to the public.
Oral cancer screening, teeth cleaning, x-rays, fluoride treatments and sealants are some of the services offered. The clinic does not provide fillings, oral surgery, braces or dentures.
All dental care is performed by student dental hygienists who are carefully supervised by licensed dental hygiene faculty.
Fees range from $5 to $20 for basic preventive services. More complex periodontal treatments cost $25 to $40.
Services are free for those with Medicaid cards, Food Stamp cards, or VA cards, as well as PSC full-time students and faculty.
The Dental Hygiene Clinic is open 7:30 a.m. to 5 p.m. Monday, Tuesday and Thursday; 7:30 a.m. to 4 p.m. Wednesday; and 7:30-11:30 a.m. Friday. The clinic is located in Building 3100 on the Warrington campus, 5555 West Hwy. 98.
For appointments and information, call the PSC Dental Hygiene Clinic at 850-484-2236.